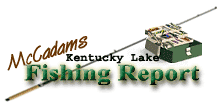 Brought to you by: Fishtale Lodge
Steve McCadams'
Kentucky Lake Fishing Report for:
May 30th, 2003
LAKE LEVELS RETURN TO NORMAL
After several weeks of high water, Kentucky Lake's elevation has finally returned to normal. TVA really pulled the plug last weekend as the reservoir fell drastically during the holiday period.
Anglers, recreational boaters, campers, and just about everyone using the lake was glad to see the return to normal lake stages. Boat ramps are now accessible but many piers and private docks had damage.
Fishing has been good for bass and bluegill. Crappie action appears to be improving some too. Catfish action has been a victim of the high water as much of the bank fishing opportunity was interrupted.
Surface temperatures are in the 70 to 74 degree range. Watercolor is stained on the main Tennessee River but clears quickly once you enter the bays.
Observed elevation at New Johnsonville was 359 while Kentucky Dam showed readings of 359.2. TVA indicates the lake will be falling slowly this weekend.
Bass have been taken this week around the abundance of weedbeds and buck bushes. Willows trees are holding some fish too as are many of the logs and trees that blew down in the high water and wind. There are a lot of blow downs, which have increased bass habitat along the shoreline and main river islands.
Schools of "pin minnows" are abundant in the backs of many coves and along the islands. Bass are really feeding on them too.
It appears the high water really increased the survival rate of the pin minnows, which should enhance the bass fishing in the weeks ahead.
Spinnerbaits, worms, lizards, and various topwater baits are producing in the shallow cover. Pitching and flipping a jig has been effective too.
The falling lake levels have pulled some fish back out to points too where anglers are using crankbaits and Carolina rigged lizards to catch fish near deep water.
Bluegill are still hitting and a few shellcracker have been showing up in the creel as well. The fish have been bedded for several weeks now and appear to be on the backside of the peak-spawning phase but you can still catch some.
Look for action to be good this week for bluegill but expect the fish to scatter soon as spawning phases pass.
Crappie are improving but still somewhat scattered. Depths of 12 to 14 feet were producing a few fish where submerged stakebeds and brushpiles were located on main lake flats.
There's still a scattered fish or two in shallow areas but it appears the fish are returning to deeper water venues. Some deep ledges in the 15 to 18 foot areas produced some fish this week too as anglers tightlined jigs and live minnows around stumps and brush.
Catfish were still trying to spawn around rock bluffs but the fish have been scattered as many ventured out all over the lake during the high water period. Some anglers are finding fish by jugging in the bays. Nightcrawlers and chicken livers are producing.
Look for normal fishing patterns to resume this week since the lake has returned to summer pool levels. Overall, fishing is pretty good so don't let the good time pass you by!
For The Lake Barkley Report
Click Here
For Other Kentucky Lake Fishing Reports
Click Here
Steve McCadams
is a professional hunting and fishing guide here in the Paris Landing area and host of The Outdoor Channel's television series IN-PURSUIT.