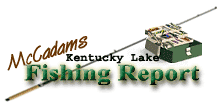 Brought to you by: Fishtale Lodge
Steve McCadams'
Kentucky Lake Fishing Report for:
May 28th, 2004
This week's Kentucky Lake fishing report shows an improvement in the crappie department. Catfish are still hitting good and bass action continues to hold up well.
Lake levels have been relatively stable this week and TVA indicates more of the same going into the weekend.
Predicted lake stages this weekend for New Johnsonville will be 359, which is the summer pool mark. Downstream at Kentucky Dam lake levels will be slightly higher with a reading of 359.2 predicted.
Surface temperatures are in the 77 to 80 degree range.
Watercolor has cleared in much of the mouth of Big Sandy near Paris Landing while a little stain remains in portions of West Sandy near Springville pumphouse and in the upper end of Big Sandy near Country Junction.
Some dingy water remains along the main Tennessee River and along feeder bays and creeks, especially on the west side.
Crappie anglers have seen action improve this week as several fish were caught in the 11 to 14 foot zones. Most of the fish are coming from manmade fish attractors such as brush piles and stakebeds. A few fish are beginning to show up on the natural stump rows out on the main lake too.
Live minnows have accounted for several fish this week but jigs tipped with minnows are also working quite well. Some chartreuse leadheads with a variety of skirt color combinations have paid off such as smoke and sparkle, chartreuse with red metal flake, and pink and chartreuse.
I found several crappie taking a slip-bobber presentation over deeper structure as the fish were suspended. However, with the clear water many fish will come up from the structure to take a suspended bait and that could be the case.
Anglers have had several days where cloud cover helped stimulate the bite, especially in the midrange depths.
Overall, crappie action is pretty good and much better than it was in late April and early May here in the Paris Landing sector. However, wind continues to challenge anglers attempting to fish open water areas.
Bass action continues to hold up well. Several fish are still relating to shallow structure as a lot of small "pin" minnows are hatching out, offering an abundant food source for both bass and larger shad. There appears to be a good early hatch of "fry" roaming the shallow weedbeds. This serves as a good forage base several species of fish too.
Watch for increased action around shallow weedbeds, buck bushes, and blowdowns along the main river and also along river islands.
Success has come for anglers working worms, lizards, jig and pig combos, and spinnerbaits around shallow cover. And, some topwater action is still paying off, especially on cloudy days and early mornings or late afternoons.
Buzzbaits have produced well as have small, finesse jerk baits such as Slugo or Fluke style lures. Some popper style lures are also accounting for strikes such as Storm's Chug-Bug and Rebel's Pop-R.
Other patterns developing are the ledges and humps, where anglers are tossing both crankbaits and Carolina rigged lizards. Some scattered grass is also showing up in clear bays and offering refuge to minnows. Some decent fish have come from the clusters of grass, which are growing off the main shoreline in depths of 3 to 5 feet.
Watch for action to hold up in shallow areas while some of the larger fish continue to move toward main lake ledges and humps hear the mouths of large bays.
Catfish action is fair but some anglers are doing well off rock levees and bluffs where the fish continue to spawn. Nightcrawlers and chicken liver have produced well this week. Jug fishing is still paying off for anglers too.
West Sandy anglers are still finding some bream and scattered crappie behind the levee at Springville bottom. Pumps are still running in an attempt to dewater the area but there has been ample water there this spring for fishing.
Bluegill are still hitting but seemed to have backed off many beds the last week or so. The big bull bream haven't been fanning the beds too much but that could improve as many females are still holding eggs.
With a full moon fast approaching, bluegill will likely make another spawning run this upcoming week before tapering off. Not many redear (shellcracker) have been taken this week, although some are still lingering in the visible grassbeds and buck bushes.
Fishing is good and many species are beginning to show movement toward their summer patterns.
For The Lake Barkley Report
Click Here
Also check out our past:
Kentucky Lake Fishing Reports
Steve McCadams
Steve McCadams is one of the nation's best known Crappie Fishermen and a full time resident of Paris, Tennessee. Steve is also a professional hunting and fishing guide here in the Paris Landing area.