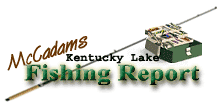 Brought to you by: Fishtale Lodge
May 27, 2010

FISHING SCENE IMPROVESÖNORMAL POOL LEVELS RETURN


After a roller coaster ride during a stubborn spring Kentucky Lake is back down to normal summer pool elevation as a busy boating weekend arrives.
Fishing has improved for some species such as crappie which have been reluctant to bite but bounced back strong this week. Water color improved throughout the Big Sandy embayment and along the Tennessee River as well, setting the stage for some good crappie fishing in the weeks ahead.
Bass anglers were still finding plenty of fish too as hefty stringers continue to come in while bedding bluegill and shellcracker have been dependable for several weeks running. And, catfish are hitting as they continue to prowl around rocky banks in search of spawning spots.
Lake levels have been falling slowly all week and that helped rid many areas of muddy water that lingered far too long to suit fishermen stalking the waters of Big Sandy and West Sandy. Right now the reservoir is sporting a good color for fishing as flood waters and come and gone.
Elevation is expected to be at summer pool this weekend as TVA project a reading of 359 around New Johnsonville and 359.1 at Kentucky Dam. The readings are a down several inches from last week at this time.
Surface temps have responded to warm days and climbed into the 73 to 75 degree range this week.
Crappie were showing up in decent numbers the last few days as anglers working the 13 to 15 foot depth range were doing well. The midrange depth zone should continue to hold fish for the next few weeks as the fish related to structure before the long hot summer arrives.
Bluegill and shellcracker have been consistent this spring and coolers full of good size fish have been coming in on a daily basis. The powerful panfish are still spawning and that two to four foot depth range has been popular.
With a full moon entering the picture expect some good action this weekend as the fish fan their spawning beds and sport a hefty appetite. Watch for the bite to last another week or so before spawning phases fade and the big bulls scatter.
Bass action remains good as patterns change with falling lake levels. A lot of fish have pulled out away from shallow shoreline habitat where sloping points and ledges are now appealing to fish that had been roaming the shallows.
There are still a lot of fish using visible grassbeds and buck bushes so plenty of action is still available there. However, some of the larger fish have pulled back to deeper depths in response to falling lake levels.
Hefty stringers were taken this week by anglers tossing big crankbaits, Carolina rigged lizards, Texas rigged worms, and jig and pig combos on deeper humps and drop-offs. Several anglers reported catching 40 fish or more each day.
It appears several strong year classes of bass are present. And, itís not unusual to hear about some fish being taken on topwater around shallow bushes and grass on the same day that other anglers find them on a completely different deep water pattern.
Catfish are relating to the rocky banks and still moving around those shallow bluegill beds too as some big ones have been taken by anglers fishing crickets and worms on light tackle.
The rock bluffs are producing too and some good reports from bank fishermen are coming in as well.
Now that Kentucky Lake is back down to normal summer pool elevation anglers should be able to hold on to patterns from week to week. It has been a wild spring but anglers canít complain now as fishing is good!
Also check out our past:
Kentucky Lake Fishing Reports

Steve McCadams is one of the nation's best known Crappie Fishermen and a full time resident of Paris, Tennessee. Steve is also a professional hunting and fishing guide here in the Paris Landing area.