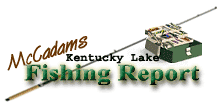 Brought to you by: Fishtale Lodge
Steve McCadams'
Kentucky Lake Fishing Report for:
May 26th, 2005
FALL CONDITIONS GREET ANGLERS...BASS AND CRAPPIE ACTION IMPROVES...LAKE LEVELS STABLE
Anglers have had cool mornings this past week, making it feel more like early fall than late spring. In fact, jackets and long sleeve shirts have been in demand as cool north winds whipped up whitecaps for several days.
Presently, surface temperatures have cooled somewhat and stayed in the 74 to 77 range most of the week. Expect a slight warming trend going into the Memorial Day weekend.
Watercolor remains clear throughout the Big Sandy area and up into West Sandy while a little dingy water is present throughout the Tennessee River and its feeder bays.
Lake elevation has been relatively stable this week with both Kentucky Dam and New Johnsonville area staying around the 359 range. Some areas south are a little below supper pool but overall, the reservoir has been staying at the summer pool level lately as no heavy rains have been in the picture.
Bluegill are still bedding and hitting pretty good, although the cooler conditions at midweek appeared to slow down the bite somewhat. The high pressure and north to northeast winds seemed to have an adverse affect each morning but action improved a little each afternoon.
Some redear (shellcracker) are still hitting too as a full moon returned earlier this week. Bushes mixed with some grassbeds have attracted a few scattered shellcrackers but not many catches have been reported in large numbers. Only a few scattered fish here and there.
Both bluegill and shellcracker will begin to scatter by next week as the peak of their spawning phase passes. Still, there's some good fishing to be had and in a few short weeks the mayfly hatches will enter the picture.
Crappie have improved this week and are relating to structure in the 112 to 14 foot depths. I found a few pretty good size fish this week in midrange stake beds taking jigs tipped with minnows.
Although several small fish are mixed in, some larger fish were there with them. However, crappie were not concentrated as it took a lot of stops but action has improved over last week and should continue to improve in the weeks ahead.
Some fish are still suspended and a few anglers are trolling jigs and crankbaits to find crappie.
Also showing up this week were several sauger. My groups landed several sauger while crappie and bass fishing this week. A few were well past the minimum length limit but several small fish were also showing up, which is an improvement over last year at this time.
Bass are hitting good with a variety of patterns still producing. Shallow action has been fair on topwater, floating worms, and Texas rigged worms and lizards tossed around grassbeds and buck bushes.
Carolina rigged worms and lizards in the pumpkin-pepper, red shad, and tequila sunrise colors are still working too. Some of the larger fish are moving back out off the banks where anglers are working secondary points and ledges with both big crankbaits and Texas or Carolina rigged worms.
There are a lot of pin minnows present in shallow weeds and treelaps along river islands but the minnows are still too small to attract large bass. That situation will continue to improve as the schools of minnows get bigger. Keep the spinnerbaits handy.
Catfish action was good last week but slowed somewhat this week in the cool weather, as no current was present in the river either. However, watch for action to bounce back quickly as several fish were taken on jugs and trotlines. Some success has also come from anglers fishing rock banks and under the Paris Landing Bridge.
For The Lake Barkley Report
Click Here
Also check out our past:
Kentucky Lake Fishing Reports
Steve McCadams
Steve McCadams is one of the nation's best known Crappie Fishermen and a full time resident of Paris, Tennessee. Steve is also a professional hunting and fishing guide here in the Paris Landing area.