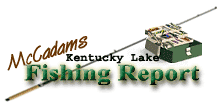 Brought to you by: Fishtale Lodge
Steve McCadams'
Kentucky Lake Fishing Report for:
May 26th, 2006
Kentucky Lake anglers continue to score some hefty catches of bass and crappie this week as warm weather returns.
Anglers have done well the last week to ten days on both bass and crappie despite cooler than normal conditions but summer style weather returned at midweek, breaking a lingering cool spell.
Surface temperatures rebounded dramatically the last few days, climbing from the upper 60's on Monday to the 75 to 77 degree range by Wednesday afternoon.
Observed lake elevation at Kentucky Dam was around the 358.9 range going into the weekend with similar readings reported upstream at New Johnsonville. Water levels were expected to stay around the summer pool mark for the upcoming week.
Clear water is still present throughout most of the reservoir with slight stain in the back of some bays and small pockets just off the main lake area of the Tennessee River. Most of Big Sandy remains clear.
Crappie anglers are finding a lot of fish using brushpiles and stakebeds in 11 to 14 foot depths. A few fish were beginning to pull back to deeper ledges in depths of 17 to 19 feet too.
Working jigs and leadheads tipped with minnows has produced well this week. There are lots of crappie relating to those midrange depth zones and while a lot of small fish are being caught, plenty of keeper size fish are mixed in there with them.
The fish are doing well for most anglers fishing this post-spawn phase and it appears the fishing will hold up quite well as June knocks on the door.
Bass fishermen are enjoying good spring too as hefty stringers continue to come in from both tournament anglers and sport fishermen. A variety of patterns always seems to work this time of year on Kentucky Lake and that scenario has held true this week.
Several fish were taken from shallow weedbeds, willow trees, and blowdowns where anglers were tossing spinnerbaits, topwater, and Texas rigged lizards and worms. The shallow pattern has been nice to anglers who just want to catch some fish.
There appears to be a good hatch of small "fry" minnows that will continue to grow and attract some good bass to shallow venues in the weeks ahead.
Some of the larger tournament winning stringers are coming from anglers backing off the banks and working jigs, Carolina rigs, and big crankbaits on ledges. With warmer weather now entering picture look for continued success as the bigger bass move toward a summer pattern.
Smallmouth have evaded the lion's share of anglers this spring but this last week saw some nice stringers taken as those deeper ledges appear to be holding some hefty bronzebacks.
Catfish action picked up some this week thanks to the warmer weather too. Last week action fell off around the rocky banks when surface temperatures cooled and that fall weather descended but the fish are back on the prowl for shoreline anglers.
Bluegill and shellcracker improved this week as well after a short hiatus. That cool spell the previous two weeks did not work in favor of spawning panfish but fish were back in the groove at midweek.
Look for a late surge from bedding bluegill for a few more days thanks to the warming trend. Those areas that were slow last week might be worth trying again this week as the fish sometimes return to bedding areas in late May and early June.
For The Lake Barkley Report
Click Here
Also check out our past:
Kentucky Lake Fishing Reports
Steve McCadams
Steve McCadams is one of the nation's best known Crappie Fishermen and a full time resident of Paris, Tennessee. Steve is also a professional hunting and fishing guide here in the Paris Landing area.