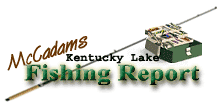 Brought to you by: Fishtale Lodge
Steve McCadams'
Kentucky Lake Fishing Report for:
May 25th, 2007
Updates from the fishing scene indicate crappie action is holding up well as bass anglers back off the banks and bluegill show signs of another spawning run. Catfishermen are still hitting the rock shorelines and island in search of shallow action.
Anglers at Kentucky Lake have been somewhat surprised at the falling lake levels this past week, which has altered the shallow water shoreline patterns for both bass and bluegill fishermen.
TVA is supposed to keep the reservoir at the 359 summer pool elevation level under normal conditions throughout May. However, present lake levels at Kentucky Dam were 358.5 at midweek. Upstream at New Johnsonville the elevation going into the weekend is expected to be 358.4, which is several inches shy of summer pool.
Falling lake levels this week have pulled a lot of bedding bluegill out away from shallow grassbeds and buck bushes. Areas that were giving up good numbers of fish are now too shallow and it appears a lot of bluegill have moved since last week.
Both bluegill and shellcracker were much more scattered this week compared to the week prior and downright tough to find in many zones. Bites were finicky as the falling lake levels and clear water seemed to throw a curve to the fish.
A second wave may attempt another spawning run this weekend and into next week as a full moon approaches on June 1.
Crappie has been good this week and even though it's post-spawn the fish are showing up in good numbers in a structure oriented mood.
Good numbers were taken this week by anglers working jigs and minnows around cover in the 11 to 14 foot zone. Some decent stringers also showed up in the creel of anglers working deeper ledges in the main lake. Depths of 18 to 22 feet were holding fish as well.
Lots of folks overlook the late May and June crappie fishing here on Kentucky Lake. It appears some good weeks of crappie fishing are ahead as those stakebeds, brushpiles, and deep stump rows are giving up some dandies.
Bass anglers are backing off the banks and working sloping points, drop-offs, and humps in the main lake with such presentations as Carolina rigs, Texas rigged worms, jig and pig combos, and the ever popular deep diving crankbaits.
Some shallow bass were still present earlier this week but the falling lake levels have really taken a toll on the shallow grass, weeds, and buck bushes the last few days. Most shoreline structure did not hold sufficient water by midweek to offer bass a comfort zone so fish have really pulled out of visible cover.
Water color remains clear. Some banks have small areas of stained water where high wind has whipped up the sediments but overall the reservoir remains clear.
Surface temperatures this week have been in the 76 to 78 degree range.
Some catfish have been taken around rock banks this week as anglers work nightcrawlers, cut shad, and chicken liver. And, several anglers have been jug fishing lately in both the main lake and secondary bays.
Summer weather has returned after last week's cool spell. Fishing continues to hold up well so now is the time to wet a line.
For The Lake Barkley Report
Click Here
Also check out our past:
Kentucky Lake Fishing Reports
Steve McCadams
Steve McCadams is one of the nation's best known Crappie Fishermen and a full time resident of Paris, Tennessee. Steve is also a professional hunting and fishing guide here in the Paris Landing area.