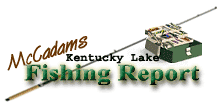 Brought to you by: Fishtale Lodge
Steve McCadams'
Kentucky Lake Fishing Report for:
May 23rd, 2008
BASS/CRAPPIE ANGLERS SMILINGÖACTION HOLDS UP WELL

Kentucky Lake has been kind to anglers this week as warm weather, light winds, and fairly stable lake levels have greeted anglers.
Good fishing conditions have rewarded bass, crappie, bluegill and catfish anglers as some nice stringers have been taken across the region.
Presently, surface temperatures are in the 71 to 74 degree range. Thatís up slightly from last week at this time.
Lake levels are slightly above the summer pool mark with readings of 359.5 in the New Johnsonville area and 359.6 at Kentucky Dam. The reservoir is up a few inches compared to last weekís elevation at this time.
Water color is clearing across most of the reservoir as no rains this week and light winds have not stirred up any sediment.
The bass bite continues to hold up well all across the reservoir as it has been a good spring for anglers beating the banks where weed beds and buck bushes have given up fish on a consistent basis. That pattern continues to produce too.
A variety of presentations are working for shallow areas ranging from blue/chartreuse spinnerbaits with gold willow leaf blades to shallow running crankbaits in shad colors. And, pitching and flipping techniques where a green pumpkin-pepper craw, lizard, or worm worked slowly has paid dividends. Other popular colors have been black, black/blue, pumpkin-pepper, red shad, and tequila sunrise, just to name a few.
Topwater has worked on the cloudy days as that clear water really lends itself to shad colored jerk baits or floating flukes and worms in the white, bubble gum, and fluorescent green colors.
A few fish were taking buzzbaits over shallow grassbeds on cloudy mornings as well.
Some anglers are backing off the banks this week and throwing Carolina rigged worms and lizards around sloping gravel points that feed into deep water.
Itís that time of year when some fish are backing out to deeper ledges and jerking that jig and pig and big Texas rigged worms will being to produce as will big deep diving crankbaits.
Submerged grass is present in a lot of the bays on the east side of the lake where spinnerbaits, rattle traps, and worms have been producing fish that are chasing shad.
Itís that time of year when finesse baits fished shallow produce at the same time deep patterns with bigger baits work too.
Crappie have improved since last week with good numbers showing up in the 12 to 14 foot depths where stakebeds and brush piles are holding nice crappie. Late May and throughout June will offer some great crappie fishing and many anglers overlook this period.
I had some nice catches this week on white/red hair jigs and tipping with minnows worked too. Also, unpainted leadheads with dull colored tube skirts and some chartreuse did the trick.
A few fish were coming from 18 to 20 foot depths on main lake ledges too. Out there anglers were tightlining jigs and tipping them with minnows.
The crappie have settled down and headed toward structure now that spawning phases are in their review mirror.
Bluegill and shellcracker have been holding up pretty good this week and continue to reside in bedding areas. Some days the high skies and bright sun have seen the bite slow down at midday.
There are still some dandy bull bluegill fanning beds and some of those shellcracker are holding tight to buck bushes where weeds surround them. Watch for bedding action to diminish after another week or so and spawning phases appear to be on the back side of their peak.
From Springville bottom comes success stories from both bluegill and crappie anglers this week. Pumps are running in an attempt to dewater the area but ample water remains for anglers at this time.
Catfish were coming from the little rock island up Big Sandy near Sulphur Well Island and along the east side of the Paris Landing Bridge and up near Danville levee.
A few anglers were also jugging this week with moderate results. And, some success was enjoyed at the discharge at Springville pumphouse.
For The Lake Barkley Report
Click Here
Also check out our past:
Kentucky Lake Fishing Reports
Steve McCadams
Steve McCadams is one of the nation's best known Crappie Fishermen and a full time resident of Paris, Tennessee. Steve is also a professional hunting and fishing guide here in the Paris Landing area.