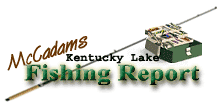 Brought to you by: Fishtale Lodge
Steve McCadams'
Kentucky Lake Fishing Report for:
May 21st, 2004
From the Kentucky Lake fishing scene comes some good reports for catfish, crappie, bass, and bluegill. Decent weather this week has worked in favor of anglers who have been out in force.
Surface temperatures are in the 76-79 degree range this week. Watercolor is sporting some stain throughout much of the Tennessee River area where pockets and bays near the main lake are a bit dingy but a good color for fishing.
Some of the Big Sandy embayment has some dingy water too, especially in the upper end around the gravel pits and down past New Hope Landing.
Observed lake elevation this weekend is expected to be near the summer pool mark of 359 in the New Johnsonville area. Downstream at Kentucky Dam readings should be around 359.2.
The lake has been falling slowly this week after some heavy rains drenched the area late last week.
Crappie have improved in the Paris Landing area since last week. Several nice stringers have been taken in the midrange depths of 12 to 14 feet. The fish appear to be in that transition zone between spring spawning areas and summer hangouts.
Most anglers are tipping jigs with live minnows to enhance strikes. I found a few fish taking jigs only but adding the minnow definitely stimulated activity, although many fish are taking the bait with a very light strike.
Small jigs in the one-sixteenth to one-thirty-second ounce size have worked best. Adding a split-shot a few inches above the light jig head will assist the feel of the jig in windy conditions.
Although unpainted leadheads are working well, some light green colors sporting a small hair or feather skirt have also produced.
Bass fishing has been good with a variety of patterns working. Several fish are still being caught in the buck bushes and weedbeds along islands and near the backs of large bays.
And, some anglers are backing off the banks and tossing Carolina rigged lizards, crankbaits, and jigs on secondary ledges where a few larger fish have been found.
Shallow fish are taking topwater lures such as jerk baits tossed over submerged grass and around visible trees and bushes. Spinnerbaits and buzzbaits have also produced, as have worms in the green pumpkin-pepper, red shad, and Tequila sunrise.
Some anglers are still pitching jigs and lizards around visible structure. The dingy water has help the shallow fishing this past week as water levels have been slightly above summer pool and offering bass a comfort zone in shoreline cover.
Some pondweed grass and various aquatics are growing in some shallow bays where schools of tiny "fry" minnows are present. Several bass have been relating to this type habitat lately as much of the submerged grass is in deeper water and away from the shoreline.
Bluegill are still hitting good with a few scattered shellcracker also being taken as anglers continue to work the shallow flats and visible weedbeds of bays off the main lake. Crickets, nightcrawlers, and wax worms have been working well.
The fish are still bedding but some areas seemed to slow down this week as to concentrations. Some areas that were producing high numbers of bedding fish last week seemed to cool off this week.
There's still some good action left for bluegill and shellcracker anglers. Look for the action to hold up for another week or two.
Catfish action has really heated up this week as the fish head toward rocky type spawning areas. Some hefty stringers were taken this week up near catfish island, located on the east side of Sulphur Well Island near the mouth of West Sandy.
The rock levees at Danville and Paris Landing are also producing as both bank fishermen and boaters are finding the fish heading toward shoreline structure.
Many trotline and jug fishermen are also catching fish too. Baits of choice continue to be chicken livers and night crawlers.
It's prime time for catching catfish around those spawning areas of rock bluffs and other shoreline cover so better make plans to wet a hook and tangle with ol'whiskers while he's on the prowl!
A few sauger are showing up along the gravel points and main lake sandbars this week too. However, several are still just shy of the 14-inch length limit so keep that measuring board handy and release those short fish to grow, spawn, and bite again.
Some anglers are already trolling for sauger but finding a few rockfish (stripers) taking deep diving crankbaits. Some white bass are showing up too along the sandbars in 10 to 14 foot depths.
For The Lake Barkley Report
Click Here
Also check out our past:
Kentucky Lake Fishing Reports
Steve McCadams
Steve McCadams is one of the nation's best known Crappie Fishermen and a full time resident of Paris, Tennessee. Steve is also a professional hunting and fishing guide here in the Paris Landing area.