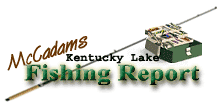 Brought to you by: Fishtale Lodge
Steve McCadams'
Kentucky Lake Fishing Report for:
May 2nd, 2003
BLUEGILL AND SHELLCRACKER BEDDING UNDERWAY

Ready for some fast action in the fishing department? Check out the feisty bluegill and hefty shellcracker that are currently on the bed across Kentucky Lake

This week these two panfish tornados hit the spawning phase as warm weather arrived. Anglers have been experiencing some great action in the shallow bays and coves too.

Good numbers of bull bream are fanning little craters along the sandy, gravel bottom where a little mud is mixed in. The darker males have really gone on a tear in the last few days and knocking a cricket, meal worm, grub, or any type artificial larva imitation should it enter their bedding area.

Redear (shellcracker) sunfish are also working the shallow weed beds where a few buck bushes are mixed in. Some redear are also coming from open water beds and mixed in with a few bluegill.

You can have a ball right now with some light spinning tackle. Just grab a few bobbers, split-shots, long shank hooks size number six and have at it. Many anglers are just crawling the bait across the bottom without a bobber and finding bites on every cast.

Depths of 2 to 4 feet is where you'll find a lot of the beds. With the clear water it's best to lay back and cast to the bedding areas, as the fish can be spooky.

Surface temperatures have been in the 67 to 69 degree range this week. Watercolor is clear in most coves and bays, along with the main river.

TVA has been somewhat off its normal curve for reservoir filling this spring as the lake came up about two weeks ahead of schedule and this past week has been several inches above the normal summer pool elevation of 359.

However, lake stages were falling at midweek and slated to be at the summer pool mark this weekend at Kentucky Dam. While the elevation will be 359 there, upstream at New Johnsonville TVA indicates the elevation will be a few inches below summer pool with a prediction of 358.8.

This past week, bass and crappie fishermen have had plenty of water around shoreline habitat and fishing there has been good. Weed beds have produced a lot of bass lately as the male fish continue to bite on a steady basis.

Bass are hitting good on spinnerbaits, floating worms and lizards, jerk baits, and buzzbaits. There's a lot of floating grass that often interferes with various topwater baits with blades but the soft jerk baits are working great.

Many bass are on the bed. Several spotted bass have been seen on shallow gravel and boatdocks fanning out dishes for egg deposits. Largemouth are really using the weeds and especially around the so-called "yellow flower" patches.

Buck bushes are really producing bass this week too. Find a bush and grassbed combo and you'll find some bass.

Look for some of the larger females to hit this week as they come off the bed. Already present in some backwater bays are schools of small "fry" bass, indicating an early spawn has taken place.

Not many smallmouth have been taken lately as the brown fish continue to play hard-to-get this spring.

One surprising note is the amount of small rockfish (stripers) being caught. Both bass and crappie anglers have been landing a lot of stripers lately. The size range has been 6 to 9-inches which indicates a spawn has taken place somewhere in the river system in the last year or two.

Anglers are not sure if the influx is good or bad. Time will tell but stripers don't normally blend too well with good crappie and bass populations, as they tend to eat a lot of the forage or anything else that comes their way!

Meanwhile, crappie are in their typical post-spawn phases and quite scattered. Some anglers have even found a few fish in the buck bushes up Big Sandy this week as some dark male crappie have ventured into the shoreline habitat due to the higher lake levels.

This is the time of year when you find a few fish in four feet, fourteen feet, and twenty-four feet! So, it's tough to catch a big number of fish in any one depth zone right now but look for crappie action to improve in a week or two as they slowly get over the stress of the annual spawning ritual.

A few sauger are showing up in the creel of bass and crappie anglers. There aren't too many making it past the 14-inch minimum length limit but it's good to see some showing up nonetheless.

This next week will see good fishing for both bass and the bluegill and redear action is likely to be red-hot!

Now is the time to introduce some kids---or anyone for that matter---to the fast action of a bream bed. Once the bobbers start disappearing we're all kids once again!

For The Lake Barkley Report
Click Here

For Other Kentucky Lake Fishing Reports
Click Here

Steve McCadams
is a professional hunting and fishing guide here in the Paris Landing area and host of The Outdoor Channel's television series IN-PURSUIT.