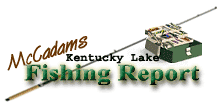 Brought to you by: Fishtale Lodge
May 20, 2010

ANGLERS HOPE FOR NORMALCY IN AFTERMATH OF HIGH WATER

In the aftermath of high water and heavy rains, anglers are adjusting their tactics and locations in pursuit of lost fish. Kentucky Lake is back down near normal summer pool and for that most lakers are thankful.

Elevation in the Paris Landing area is expected to be slightly above the summer pool mark this weekend. Projected elevation from TVA's forecast shows 359.8 at Kentucky Dam this weekend while upstream at New Johnsonville the reservoir is in the 359.7 range.

The fishing scene has been changing lately as some creeks have cleared while the main lake and most of Big Sandy was still sporting a very dingy color this week. The falling lake levels helped the water color in many bays and pockets but muddy water has been slow to settle in some places.

Topping the list for fast action for several weeks in a row has been the bluegill. A few good shellcracker have been taken too but hefty bluegill are biting best. Seems a lot of shellcracker are on the back side of their spawn and did a good job of hiding during the high water, using buck bushes and willow trees that were almost impossible to access for anglers at times.

Bluegill are still spawning and hitting good with consistent catches of 100-plus coming in. Crickets are the bait of choice and several local bait and tackle shops have been selling them like hotcakes.

Some panfishermen are tossing redworms for the redear sunfish and also opting to use small grubs or larva type baits. The long shank hooks armed with Berkley's Gulp and Power Bait are also effective as are some beetle-spin style lures cast on ultra light tackle.

Expect another week to ten days of hot action on the bluegill before their spawn starts to taper off. That means you still have ample time to load the boat with these feisty fish that pack a punch.

Surface temps this week responded to some cool nights and fell a few degrees. Readings were in the 69 to 71 degree range at midweek but will warm by the weekend. Watch for readings in the 73 to 75 degree range soon.

Bass fishing has also held up well and that outside buck bush pattern is paying off. Tossing a spinnerbait, jig and pig, Texas rigged lizard or worm or some shallow running crankbaits have been producing.

A few fish are hitting topwater jerk baits as those open grassbeds are holding lots of fish that are out cruising at times. Find a creek where water color has cleared and the floating worm and jerk baits are effective.

Some anglers are already backing off the banks and tossing Carolina rigged worms and lizards, along with big deep diving crankbaits on sloping points and ledges as the falling lake levels pulled some fish out of shallow cover.

Rattle traps and similar style lures have been working too as anglers comb the feeder ditches and deeper banks.

With lake levels slightly above summer pool there are multiple shorelines and islands offering excellent habitat for bassers who prefer to pitch and flip.

Catfish continue on the prowl with some nice ones taken along rock bluffs this week. The rip-rap levees such as Danville railroad south near Cane Creek and along highway 79 levee have been popular venues.

Those rocky bluffs are the ticket for spawning catfish who love the submerged crevices. That why areas like "catfish island" near Sulphur Well up Big Sandy and bluffs along the east side near the TVA power lines are other popular catfish hideouts this time of year.

Crappie continue to pay hide and seek with anglers. The unusual water color in the main lake is likely contributing to the slow rebound as it's downright murky in spots.

The crappie bite is normally good during late May but is overdue on its comeback since the high water came and went. Watch for improvement if water color rebounds in main lake areas by next week.
Also check out our past:
Kentucky Lake Fishing Reports

Steve McCadams is one of the nation's best known Crappie Fishermen and a full time resident of Paris, Tennessee. Steve is also a professional hunting and fishing guide here in the Paris Landing area.