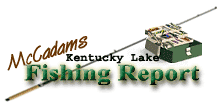 Brought to you by: Fishtale Lodge
Steve McCadams'
Kentucky Lake Fishing Report for:
May 20th, 2005
Fishing continues to hold up well on Kentucky Lake for several species, thanks to another week of beautiful weather.
The week began with cool, foggy mornings that made it seem like fall was here. By midweek, however, warm days chased away the chill and hot weather returned.
Surface temperatures have cooled since last week. Presently, readings are in the 70 to 74 degree range and will likely rise another two to three degrees this weekend.
Lake levels have fallen slowly this week after being a few inches above summer pool last week. Observed lake elevation at Kentucky Dam is 359, which is official summer pool level. However, upstream at New Johnsonville TVA predicted a reading of 358.8, which is a few inches lower than readings taken earlier in the week.
Some current has been present in the main Tennessee River this week. Watercolor continues to stay clear throughout the Big Sandy while some dingy water is present in the Tennessee River and inside bays and pockets adjacent to the main river.
Bluegill action continues to hold up well as bedding is still underway. However, some high skies on the backside of a cool front earlier in the week seemed to slow down the bite as bluegill and redear were somewhat sluggish.
Action resumed at midweek and several fish seemed to resume fanning spawning beds. With the approach of a full moon, bluegill and shellcracker anglers will likely see a surge in action this weekend and into next week.
Several bluegill beds have been slow during the midday, as the bright sun and clear water in shallow zones have seen the fish take on a finicky mood. A few cloudy days will see action perk up fast, however, as these aggressive panfish have another week or ten days of peak spawning time left before they begin to scatter.
Bass action has been fair in shallow buck bushes and weedbeds, especially during the lowlight conditions of early mornings and late afternoons. A variety of lures have been producing such as buzz baits, jerk baits, and floating worms.
Several fish are hitting on lizards and worms pitched around willows and bushes. Some main river islands are holding fish, especially on blowdowns where trees have eroded and fallen into slightly deeper water.
Pin minnows are present in weeds and bushes but still a bit too small to attract many large bass at this time.
Some of the larger fish are dropping back to ledges and sandbars where Carolina rigged worms and lizards are producing in 8 to 12 foot depths. Some ledges in the mouth of large bays or long extending points off the main shoreline are holding fish.
A few smallmouth are taking finesse baits such as grubs and tube-style baits worked slowly on sloping points near main lake drops.
Watch for shallow water action to improve on cloudy, rain-filled days.
Catfish are hitting good for anglers placing trotlines and jugs in a variety of places. Several nice catfish were taken this week by anglers baiting with nightcawlers, chicken livers, and cut-bait.
Some fish were taken off rocky banks again this week as well. And, a few reports indicated action from rip-rap rock levees at Danville and Paris Landing.
Crappie have been fair to slow for most anglers this week but a few success stories have come in from those trolling jigs and crankbaits. Most of the fish are still suspended in 7 to 14 foot zones and those covering a lot of water have scored some decent stringers.
Watch for crappie to continue to improve as they return to a structure oriented pattern as surface temperatures warm.
Some scattered sauger are showing up from gravel points but a lot of the fish are shy of the legal length limit.
For The Lake Barkley Report
Click Here
Also check out our past:
Kentucky Lake Fishing Reports
Steve McCadams
Steve McCadams is one of the nation's best known Crappie Fishermen and a full time resident of Paris, Tennessee. Steve is also a professional hunting and fishing guide here in the Paris Landing area.