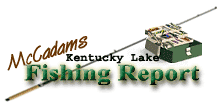 Brought to you by: Fishtale Lodge
Steve McCadams'
Kentucky Lake Fishing Report for:
May 19th, 2006
ANGLERS EMBRACE RETURN OF NORMAL WEATHER AND FISHING PATTERNS
Kentucky Lake anglers are coming off an unusual week of weather that began to moderate on Wednesday but not before some six days of below average temperatures.
It felt like fall had chased away spring and gale winds late last week teamed up with cool temperatures to throw a curve to the fish and fishermen.
Surface temperatures fell to the 67 degree mark earlier in the week, which is seven to ten degrees below normal for mid-May. The drastic change really knocked the bluegill and redear spawning off kilter for several days as the fish seemed to adopt a dormant stage.
What was normally peak time saw the fish back off and take on an inactive mood. However, by Wednesday afternoon a warming trend seemed to revive the passion of the powerful panfish and action was on the upswing.
Watch for action to improve this weekend as warm sunshine returns and surface temperatures climb back into their normal range of 74 to 76 degrees. Bluegill and redear action will stay good for another week to ten days before spawning phases begin to taper off.
Meanwhile, lake levels fell earlier this week too, which also added a negative ingredient to the shallow water fishing recipe for bluegill and bass anglers. Observed elevation is expected to be in the 358.7 range going into the weekend at New Johnsonville while Kentucky Dam projections will be slightly below summer pool at 358.9.
Watercolor has some stain throughout the Tennessee River area and Big Sandy as high winds and recent rains influenced shallow areas but overall watercolor conditions are good for fishing.
Bass were still hitting good in shallow weedbeds, willow trees and buck bushes along the shoreline and on some river islands this week. Some of the larger stringers, however, were coming from secondary ledges where anglers were working jig and pig combos, big crankbaits, and Carolina rigged lizards imitations.
Small "fry" minnows are present in shallow shoreline habitat where a lot of small bass are residing. The larger fish appear to be moving off the banks and relating to sloping points and ledges in depths of 8 to 14 feet in some spots.
Some topwater action is still paying off for anglers tossing floating fluke style worms, jerk baits, and buzzbaits. Spinnerbaits are accounting for some fish too as are Texas rigged worms and lizards worked around visible cover.
As waters warm look for more of the large fish to back off the banks in the days ahead.
Some decent stringers of catfish were showing up on rock banks as anglers worked nightcrawlers, leeches, chicken liver and cut shad around the popular spawning zones. Some good catfish were taken at the small rock island up Big Sandy near Sulphur Well Island and off the rocks at Springville pumphouse, Danville railroad levee, on the east side of the highway 79 bridge.
Crappie fishing continues to hold up well for anglers working submerged structure in the 11 to 15 foot zones. Deep brushpiles and stakebeds are giving up decent stringers of fish as are some main lake ledges in the 15 to 17 foot depths.
That live minnow is still the bait of choice for a lot of crappie anglers lately who are tipping it on a jig or unpainted leadhead and working it vertically around structure. The post-spawn phase for crappie is often a tough time for anglers but this year the bite has held up well.
Anglers can expect the crappie fishing to hold up and even improve as warmer weather returns.
With the recent cool snap behind us, most anglers are optimistic that normal fishing patterns will resume and hopefully free of those gale winds for a spell.
For The Lake Barkley Report
Click Here
Also check out our past:
Kentucky Lake Fishing Reports
Steve McCadams
Steve McCadams is one of the nation's best known Crappie Fishermen and a full time resident of Paris, Tennessee. Steve is also a professional hunting and fishing guide here in the Paris Landing area.