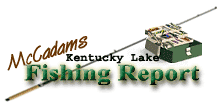 Brought to you by: Fishtale Lodge
Steve McCadams'
Kentucky Lake Fishing Report for:
May 18th, 2007
FALL LIKE CONDITIONS GREET SPRING ANGLERS
Cooler weather has delivered a fall sensation to the spring fishing scene. Anglers had to dig out the long sleeve shirts and jackets at midweek as brisk northwest winds dropped temperatures below normal for a couple of days.
Surface temperatures have been in the 72 to 74 degree range this week but watch for that to drop several degrees in the next few days as cool nights are expected.
Lake levels were falling slowly early in the week but pretty much stabilized at midweek. Presently, TVA is reporting elevation at Kentucky Dam to be in the 359.5 range. Upstream at New Johnsonville lake levels were in the 359.3 range.
TVA was not forecasting any significant changes in lake levels going into the weekend. Meanwhile, the reservoir continues to stay a few inches above the normal summer elevation level of 359.
Despite some recent thunderstorms and windy days, most of the reservoir remains quite clear as to overall water color.
How will the cold front affect fishing? Thatís a question on the minds of a lot of anglers these last few days.
Crappie fishing has been holding up pretty good the last few days as the fish have improved some since last week. High winds have been tough on fishermen trying to work the main lake areas so that has been the culprit more so than the temperature change.
A lot of crappie continue to reside in the 11 to 14 foot depth zones. Some decent stringers have been taken this week as tightlining jigs and jigs tipped with minnows have paid dividends.
Popular color choices have ranged from 1/16-ounce black and chartreuse to other variations of green and silver with metal flake in the tube skirts.
The cool snap may bring a brief hiatus to the bluegill bedding as the rusty rascals sometimes have a mood swing when high skies team up with cooling surface temperatures. Watch for action to resume soon, however, once southwest winds bring the daily temperatures back to normal.
The rapid drop in surface temperatures, along with the high pressure associated with high skies, tends to have more influence on shallow fish. Bluegill have been staying in that 3 to 5 foot zone and at midweek showed some finicky behavior as bites were light compared to aggressive strikes a day or two before.
Bass fishermen have been beating the banks for several weeks now with results. The abundance of weed beds, outer buck bushes, willow trees, and any blow down type structure off shorelines protruding off toward deeper water have been giving up decent stringers.
Itís quite likely the shallow bass bite will be off some these next few days in the aftermath of the cold front. Often times the fish are still there but just not in the mood to chase down a fast moving lure such as spinnerbaits, buzzbaits, or topwater jerk baits.
Short strikes are common as the fish swirl or roll at a lure but just donít commit.
Once some cloud cover returns watch for the shallow shoreline action to resume.
Meanwhile, pitching and flipping the visible cover with a jig and pig combo, lizard, crawfish, or Texas rigged worm may produce results.
A few bass have been taken by anglers backing up and working sloping points and main lake ledges. Some scattered smallmouth were coming from deeper humps where Carolina rigged lizards and worms were producing as were deep diving crankbaits.
The negative influence of the recent cool snap may be short lived as action will bounce back fast once south winds combine with some cloudy mornings to stimulate the bite from stubborn bass.
A few successful reports from catfishermen have trickled in this week as the rocky banks on the east side of the highway 79 levee and from other popular venues such as Danville railroad levee and Springville pumphouse.
Needless to say, it has been an unusual spring in terms of weather.
For The Lake Barkley Report
Click Here
Also check out our past:
Kentucky Lake Fishing Reports
Steve McCadams
Steve McCadams is one of the nation's best known Crappie Fishermen and a full time resident of Paris, Tennessee. Steve is also a professional hunting and fishing guide here in the Paris Landing area.