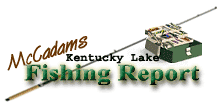 Brought to you by: Fishtale Lodge
Steve McCadams'
Kentucky Lake Fishing Report for:
May 16th, 2008
ACTION HOLDS UP FOR BASS/BLUEGILL ANGLERS…CRAPPIE SCATTERED BUT IMPROVING

Kentucky Lake anglers have enjoyed a pretty good week of fishing with a day or two of wind and thunderstorms sandwiched between pleasant mornings with light winds.
Last Sunday saw gale winds send wind warnings to the lake area but by Monday light breezes and warm sunshine returned and since then it has been decent fishing conditions for a variety of anglers.
Presently, surface temperatures are in the 67 to 70 degree range, which is slightly cooler compared to last week at this time. The cool night this week have not allowed surface temps to warm much.
Lake elevation at Kentucky Dam was resting at the summer pool mark of 359 after falling slowly earlier this week. Upstream at New Johnsonville Steam Plant the lake elevation is 358.8 after falling several inches earlier this week.
Water color remains clear across most of the reservoir.
Bluegill spawning continues and some hefty stringers have been taken from shallow areas where the bait of choice continues to be crickets cast under shallow bobber presentations.
On the warm days the fish have really turned on but a few cool mornings with high skies saw a sluggish bite from finicky bluegill and shellcracker that seemed to back off in response to cooler surface temps. The afternoons have seen some improvement thanks to slight warm ups.
Shellcracker were hitting good most all last week but the falling lake levels and slightly cooler surface temps seemed to have a negative impact on the shallow fish, although the bluegill have continued biting.
Several shallow bays and shorelines where weeds and buck bushes were yielding some nice shellcracker last week have fallen off as the fish have pulled out in response to the falling lake levels but could return quickly with a slight rise in elevation. It's likely the shellcracker have moved to slightly deeper water and riding it out there for the short term.
Bass are still relating to those buck bushes and weed bed combos with large numbers of fish taken this week, especially on the cloudy days.
Most fishermen would like a few more inches of water to inundate shoreline habitat as the bass were really relating to the stickups but seemed to have pulled out slightly to outside grassbeds or some banks with deeper water close by.
While Texas rigged worms in the black/blue, green pumpkin pepper, and red shad have been producing around shallow structure, so too have floating flukes and worms in the bubble gum and white colors.
Finesse worms and tubes in pumpkin-pepper have also worked well.
Spinnerbaits in the blue/chartreuse color have produced around grass and bushes as have some floating jerk baits.
A lot of anglers are backing off the bank and tossing jigs or Carolina rigged lizards and worms along gravel and rock points as some of the larger fish have pulled out of shallow cover and residing near deeper venues. Tossing a jig and pig in the brown/black color has also been on the menu.
Crappie have been a bit scattered but showing signs of improvement as the post spawn phases see fish slowly move toward midrange structure.
I found some decent fish in 11 to 13 foot stake beds at midweek. Small jigs in the 1/32 to 1/16-ounce range tipped with minnows worked well. Popular colors ranged from dull white and brown bodies to pink/chartreuse and clear with sparkle. Hair jigs with dull colored lead heads and brown to white bodies also produced when tipped with Berkley power bait or live minnows.
Some fish are relating to main lake ledges or structure in the 16 to 18 foot zone but scattered there. Although an occasional crappie can be taken in shallow shoreline areas or stake beds it appears most fish have vacated extremely shallow zones compared to the previous week to ten days.
Crappie will continue to improve in the weeks ahead as more fish back off the banks and congregate in midrange depths. Watch for some hefty stringers to show up in the coming weeks as late May and June can be very productive.
Catfish are still being caught in decent numbers by bank fishermen who are really working the rocks in areas such as the east side of the Ned McWherter Bridge, up along the Danville railroad levee, and the little rock island adjacent to Sulphur Island up Big Sandy, just to name a few hot spots.
Springville pump house is discharging water from behind the levee into the main lake so both catfish and crappie have been taken there this week as the pumping usually stirs up a lot of bait fish activity. Pumping will likely continue there for another week or two as TWRA attempts to dewater the West Sandy WMA.
Meanwhile, anglers fishing behind the levee are reporting decent catches of crappie and bluegill this week. Water levels will continue to fall behind the levee due to pumping but fishing should hold up there for another week or two.
For The Lake Barkley Report
Click Here
Also check out our past:
Kentucky Lake Fishing Reports
Steve McCadams
Steve McCadams is one of the nation's best known Crappie Fishermen and a full time resident of Paris, Tennessee. Steve is also a professional hunting and fishing guide here in the Paris Landing area.