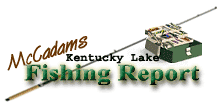 Brought to you by: Fishtale Lodge
Steve McCadams'
Kentucky Lake Fishing Report for:
May 16th, 2003
High water levels continue to dominate the fishing picture all over Kentucky and Barkley Lakes. Things are out of proportion as the lake is some 9-feet above normal.
It's hard to image where the normal shoreline was in terms of buck bushes, grass beds, and overall fishing habitat.
TVA is giving a Friday crest of 368.1 feet above sea level for the New Johnsonville area. At Kentucky Dam the projection is a crest at 367.5. All readings are subject to change.
There's a lot of current in the main river and all along river islands. While the lake was still rising on Wednesday, watch for a significant change in the week ahead as falling lake levels will be part of the picture.
Despite the crazy lake stages there are still some fish being taken by crappie, bass, bluegill, and catfish anglers.
Techniques have changed and presentations by anglers fishing bluegill beds with light spinning tackle have mostly dropped the bobbers and gone to a tight lining.
The bluegill are still bedding and hitting pretty good. Casting a light leadhead or hook with split shots on will work fine if you slowly drag it through the bedding area. The fish are attempting to stay on the bed, which means they haven't moved too much.
Although some fish have ventured into shallow trees and bushes around the abundant structure, the bulk of the big male bluegill population has stayed put. That means anglers can still catch them in good numbers but just have to adapt somewhat to the deeper water.
Crickets, meal worms, and red worms are working well.
Crappie anglers are still finding fish. They just have to let a little more line out to get down to them.
Main lake ledges were producing some fish this week as live minnows seemed to work well. Depths of 20 to 30 feet seems to be the range as even midrange stakebeds and brushpiles now have so much more water on them that it seems uncanny to fish 20-feet deep this week when not long ago the same spot was only 12-feet deep!
Tightlining jigs and live minnows down in the cover along the topsides of ledges and near the break of a shelf are still working pretty well. The crappie have also stayed put and not moved much during the rising lake stages.
Bass anglers are catching some good fish around clumps of willow trees and buck bushes where the abundance of submerged structure is providing a Mecca for roaming largemouth.
Some smaller fish moved up into shallow grass beds where there's an abundance of "fry". The schools of small minnows are really working around the backs of bays.
A variety of lures are working but some of the larger fish are being caught on black and blue jigs with a trailer. Spinnerbaits are working too, along with a worm or lizard pitched around the outside structure.
Many fish are still relating to the outside structure or original shoreline habitat.
Watercolor in the main river is quite muddy. Debris is floating everywhere so boaters need to be very careful. There are a lot of logs just waiting to tear up your boat or outboard's lower unit.
Watercolor in the backs of large bays is in pretty good shape. There' some stain there but it's just about right for fishing.
Many bridges and piers are underwater too, adding to the boating misery. And, several buoy markers on secondary channels are just barely underwater, making for yet another boating hazard out there. The U.S. Coast Guard is responsible for main river channel markers but the cables appear to be too short in many cases.
The secondary channel markers are supposed to be under the umbrella of TVA. These are the buoys in the worst shape and present the most danger to boaters.
Meanwhile, catfishermen are catching fish from shoreline as the fish continue to move up feeder creeks roam in the fresh water.
Some fish are still biting along the rock levees at Danville Bridge and in the Paris Landing area.
Nightcrawlers and beef liver are producing best.
Watch for a dramatic change in lake levels this next week as the reservoir drops and fish patterns change. In most cases, things will improve as the lake gets back to normal but it's going to take several days before TVA draws the mammoth lake back to summer pool.
For The Lake Barkley Report
Click Here
For Other Kentucky Lake Fishing Reports
Click Here
Steve McCadams
is a professional hunting and fishing guide here in the Paris Landing area and host of The Outdoor Channel's television series IN-PURSUIT.