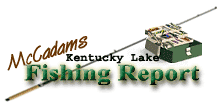 Brought to you by: Fishtale Lodge
Steve McCadams'
Kentucky Lake Fishing Report for:
May 14th, 2004
This week's fishing report has bedding bluegill and redear "shellcracker" sunfish topping the list. Action has been good as these feisty panfish are hitting crickets and wax worms, along with nightcrawlers.
Look for another two weeks of peak fishing for these two species so don't delay that fishing trip. Those ultra-light rigs were made for days like this.
Meanwhile, the reservoir has been relatively stable this week. TVA predicts lake levels going into the weekend will be 359.3 at Kentucky Dam. Upstream at New Johnsonville the elevation will be slightly lower with a prediction of 359.1.
Surface temperatures have warmed into the 74 to 76 degree range this week. Watercolor is somewhat stained in many of the Tennessee River pockets and bays while the Big Sandy remains relatively clear in the main lake. Some dingy water is still found in the upper basin around the gravel pits and portions of west Sandy.
Crappie fishing is fair but showing some signs of improvement this week as a few fish continue to related to structure in the 11 to 13 foot zones. Brushpiles and stakebeds are paying off with some scattered fish.
Some crappie are still suspended out on the main lake as trollers and drift style fishermen are still picking up a few. Depths of 12 to 14 feet have been paying off but some of the fish are at that depth range but over much deeper zones such as 20 foot depths within the main river channel of Big Sandy.
Small jigs in the 1/16 (one-sixteenth) size and sporting green leadheads are producing. And, the fish seemed to prefer a jig tipped with a live minnow.
The strikes are light so the fish are still showing a somewhat finicky mood but action has improved.
Bass anglers are finding success with a variety of patterns. There's still a lot of fish in the shallow bushes and weedbeds where lizards, flukes, spinnerbaits, and some topwater jerk baits are paying off. And, buzzbaits over shallow grass are working well in the early mornings and late afternoons.
A lot of smaller fish are hanging out in the shallow shoreline habitat. The larger fish appear to be backing off the banks and in-between the deep summer ledges and shallow banks.
Several anglers are tossing Carolina rigged lizards and worms around long points and sloping sandbars at the mouth of large bays.
Crankbaits are also entering the picture for some anglers who are trying to cover a lot of water and catch scattered, but larger, largemouth.
Catfish have been improving with several fish now coming from rock levees and bluffs where fish are spawning.
Some anglers are catching fish while jugging too. Several boats have been drifting jugs in the backwaters of large bays this week.
Baits of choice have been chicken livers and nightcrawlers.
From the backwater of West Sandy WMA comes word of good bluegill and crappie fishing. Several good stringers have come from there recently as a lot of water remains in the Springville bottom, although TVA is attempting to dewater the areas for TWRA waterfowl management.
Pumps are running around the clock so anglers can take advantage of the action around the Springville pumphouse where a variety of species can be taken.
The weather is warm and the overall fishing scene is good.
For The Lake Barkley Report
Click Here
Also check out our past:
Kentucky Lake Fishing Reports
Steve McCadams
Steve McCadams is one of the nation's best known Crappie Fishermen and a full time resident of Paris, Tennessee. Steve is also a professional hunting and fishing guide here in the Paris Landing area.