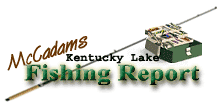 Brought to you by: Fishtale Lodge
Steve McCadams'
Kentucky Lake Fishing Report for:
May 13th, 2005
ANGLERS ENJOYING GOOD WEATHER…BASS/BLUEGILL HITTING GOOD
Fishing on Kentucky Lake this week has been the beneficiary of some beautiful weather. Light winds and warm sunshine have teamed up to provide good fishing conditions for a variety of species such as bass, bluegill, redear sunfish, and catfish.
Surface temperatures have really warmed up this week and some days felt more like summer than spring. Meanwhile, cooler conditions are on the way for the weekend but it appears anglers will have another good week of fishing conditions ahead.
Presently, surface temperatures are in the 74 to 78 degree range in most areas. Most mornings see surface temperatures starting out around 68 but have risen dramatically during the day.
Watercolor is clear throughout most of the area.
Observed lake elevation at Kentucky Dam is 359.5 and falling slowly after a slight rise earlier in the week. Upstream at New Johnsonville lake levels were slightly lower with a reading of 359.3. TVA indicates those readings will remain going into the weekend but anglers will likely see a slightly lower reading by early next week.
Bluegill action is good and those feisty panfish are on the spawning beds. Some mornings the fish seemed to get off to a slow start only to kick into high gear by midday and begin fanning spawning sites.
Those hefty bulls are sporting a dark color and really in the mood to both feed and defend the nest should you get your bait in the zone. Baits of choice have been crickets, wax worms, redworms, and several artificial imitations such as small sinking nymphs and larva grubs.
Some anglers are using the ever popular bobber style presentations while others are casting small leadheads or long shank hooks and a split-shot without tossing a bobber. Sometimes the slow movement stimulates strikes but there's nothing that compares to seeing that bobber disappear.
Most of the fish are fanning their crater like beds in 1 to 4 foot depths. Several good catches have come from beds adjacent to weeds and bushes while others are beginning to spawn in open water zones where a sandy, gravel type bottom is present.
There's another couple of weeks left for prime bluegill fishing so don't let this great fishing phase pass you by.
A few nice redear sunfish, commonly referred to as shellcracker, are still very much in the mood too. Some dandies have been taken this past week but the numbers are not as common as the bluegill.
Pockets of grassbeds and near bushes will put you in touch with some redear most of the time but expect these fish to be more finicky than their bluegill cousins as to presentation and bait choice.
Bass action has been good on topwater this week, especially during the early mornings and late afternoon or when some cloud cover was present. Such lures as Storm's Chugg-Bugg, Smithwick's Devil's Horse, and Rebel's Pop-R are just a few popular selections.
Also producing has been floating flukes and Texas rigged lizards and worms in the pumpkin-pepper colors.
Spinnerbaits are working well around grass and bushes as are shallow running crankbaits.
Some of the larger bass appear to be out on secondary ledges and points away from shoreline habitat as some stringers have been taken by anglers using Carolina rigged lizards and Texas rigged worms in 6 to 10 foot zones.
However, watch for shallow shoreline habitat to keep producing some fish as small "fry" are already present in visible cover, indicating an early hatch of baitfish is on the way.
There's a lot of fishy looking territory right now in the backs of bays and along river islands where buck bushes and weed beds mix to form great cover. Some anglers are pitching and flipping jigs and worms too so there's a wide variety of patterns awaiting you when Kentucky Lake is at, or slightly above, the summer pool mark.
A few hefty smallmouth are coming from sloping points and main lake sandbars. Anglers fishing some finesse baits such as lead heads with twister tail grubs, in-line spinners, and suspending jerk baits have tricked a few brown fish into striking.
Catfish action has improved over last week with some fish being caught in shallow water venues by surprised bluegill anglers. And, the rocky banks and bluffs will continue to attract spawning catfish this next week.
Crappie remain scattered and suspended for most anglers but watch for improvement in the weeks ahead. The fish will likely return to some structure soon in midrange depths of 11 to 14 feet.
There have been a few success stories this week, however, as Paris angler Ted Todd reported taking a limit of crappie on Monday in the Sulphur Well Island area. He credited his success to slow trolling blue and pearl colored jigs in 13-foot depths.
For The Lake Barkley Report
Click Here
Also check out our past:
Kentucky Lake Fishing Reports
Steve McCadams
Steve McCadams is one of the nation's best known Crappie Fishermen and a full time resident of Paris, Tennessee. Steve is also a professional hunting and fishing guide here in the Paris Landing area.