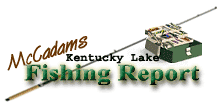 Brought to you by:





May 12, 2011

LAKE LEVELS FALLING…BASS/BLUEGILL ACTION GOOD


Lake levels have been falling fast since last week's historic high water mark and despite the rapid drawdown bass and bluegill anglers have chalked up some very good catches.

Kentucky Lake is headed back down to normal summer pool elevation but may well be the middle of next week before the reservoir reaches that goal. TVA began a rapid drawdown last week and while the lake had been falling almost a foot per day, projections show the decent will decrease as the weekend approaches,

Elevation is projected to be in the 366.2 range at Kentucky Dam and New Johnsonville as the weekend approaches. Those readings are down some six feet from last week at this time but still well above the normal 359 summer pool level.

While anglers and pleasure boaters had difficulty finding a place to launch last week it appears many boat ramps and access areas will be reopening soon, if not already.

Surface temps this week warmed into the 73 to 75 degree range as a few warm days in the 85 degree range really heated things up. Near record highs were reached on Tuesday and Wednesday with normal temps forecasted for the weekend.

Water color was quite clear in most backwater bays and a slight stain present in the main river channel. Falling lake levels really pulled the dingy water out of creeks and bays this week.

Bass were biting good and anglers were tying into good numbers of fish that mostly related to deeper bushes and grass where the original shoreline was submerged. While the abundance of visible structure has been appealing during high water, most of the fish were relating to submerged cover, which sometimes plays tricks on bass fishermen yeaning to beat the banks.

Good numbers of fish were caught this week around steeper banks and feeder creeks where bass seemed to stage as lake levels declined. Popular techniques have been Caroline rigged lizards, worms and crawfish imitations worked around hidden cover but Texas rigged worms and lizards/craws have worked too.

A few popular colors were green-pumpkin pepper, cotton candy, and black/blue pearl.

Spinnerbaits and some crankbaits have also paid dividends as fan casting over hidden bush lines has been good.

As lake levels continue to fall watch for outside trees and bush lines to be productive as the fish pull back near deep water escape routes. Flipping and pitching will be effective techniques as well some topwater lures as clear water will be a factor.

Bluegill and shellcracker have been on beds and the bite is good. Coolers full of hefty size fish have been taken this week as spawning phases are underway. Despite high lake levels the bluegill action has been consistent and the fish are beginning to fall back to normal bedding areas whereas earlier in the week they were residing in spots that were normally dry ground.

Shellcracker seemed to improve this week and were taking crickets, meal worms, and redworms. Depths of 5 to 8 feet were producing but a few were even deeper as they appeared to be heading back to normal spawning areas and fanning beds as sunlight penetrated the clear water.

Now is prime time and anglers have already enjoyed a couple of week of great panfish action with fish sizes somewhat above average due in part to the abundance of food and vegetation during the high water periods.

Action should hold up another two week or so before the back side of spawning phases see fish scatter.

Crappie showed some improvement the last few days as falling lake levels should work in favor of anglers slow trolling and dragging long lines. Crappie action had been slow during the rapid rise but will likely continue improving as the reservoir returns to normal pool, which will pull some roaming fish out of very shallow areas.

It has been very difficult to pattern crappie lately but that's not surprising, given all the change that has taken place during the post-spawn phase. Watch for fish to relate better to structure in the week ahead and some manmade fish attractors in the 13 to 15 foot depth range might return to productive status.

Catfish have been hitting good and really on the move during the fluctuation in lake levels. Some nice ones have been taken this week in shallow areas and bluegill fishermen are tying into some dandies on a daily basis as the fish often hang around bream beds.

Spawning phases are also underway for catfish that have been moving around bushes and trees seeking spawning territory. Rocky banks and rip-rap should really appeal to catfish in the next week to ten days as the fish search crevices in which to deposit eggs.

The high water has been difficult at times but some anglers have fared well and adjusted to the changes. The fish are reacting to the falling lake levels and reversing their routes but maintaining a biting mood as warm weather has helped the moods of the fish and fishermen.

There are still a lot of boating hazards out there in the high water so be extra careful as a lot of trees, logs and manmade structures have been displaced.


Also check out our past:
Kentucky Lake Fishing Reports

Steve McCadams is one of the nation's best known Crappie Fishermen and a full time resident of Paris, Tennessee. Steve is also a professional hunting and fishing guide here in the Paris Landing area.