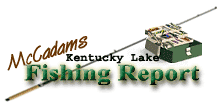 Brought to you by: Fishtale Lodge
Steve McCadams'
Kentucky Lake Fishing Report for:
May 11th, 2007
SPRING FISHING STILL ON A ROLL...GOOD WEATHER CONTINUES
Great fishing weather has greeted anglers this week. Bass continue to hit good and crappie have shown some improvement the last few days too.
Bluegill and shellcracker are still in the mood as spawning action continues to see big numbers of fish showing up in the creel.
Catfish continue move toward rocky banks as they search for spawning territory but some big fish have been taken along the main river in deep holes.
Surface temperatures this week have been in the 71 to 74 degree range as some days it was downright hot when the wind stopped. Other days have delivered a light breeze and some cloud cover that worked in favor of the fish and fishermen.
Lake elevation rose a few inches earlier in the week and was somewhat above the summer pool stage. On Monday the reservoir crested at 359.6 at Kentucky Dam but was falling slowly at midweek.
Upstream at New Johnsonville the elevation was also about six inches above the normal summer pool stage early in the week but was falling at midweek.
TVA project a slow fall throughout the weekend. Anglers will likely see some stability return by early next week once the reservoir drops back to the 359 summer pool mark. However, the current may well stimulate some activity for bass, catfish, and crappie anglers these next few days.
Water color remains quite clear throughout most of the reservoir.
Bass have been on a roll most of the spring and the bite continues to hold up. Anglers are catching a lot of fish on a variety of lures and most of the bass appear to be coming from shallow areas.
Some fish have pulled away from visible shoreline habitat and appear to be holding off points where Carolina rigged worms and lizards have worked well. Some anglers were tossing crankbaits and suspending jerk baits off the deeper points and sloping banks.
Yet the bulk of fish are coming from weedbeds, buck bushes, willow trees, and blowdowns where logs or leaning trees on river islands and main shorelines have been attractive hideouts.
Chartreuse and blue skirted spinnerbaits with gold blades have worked well as have Texas rigged worms and lizards pitched around cover. Zoomís baby brush hog in black with red glitter has been a popular color choice as have green pumpkin pepper.
Gary Yamamoto senko and fluke works have also produced well around bushes and grass. White, watermelon with red glitter, and pearl are a few colors working well.
Topwater action has been good on the cloudy days as buzzbaits and jerkbaits such as Stormís Chug-bug and Rebelís Pop-R in shad and chrome colors have fooled several fish into striking.
The relative new Chatter baits and other jig and pig combos are accounting for some strikes as a lot of fish are in the post-spawn pattern. There are, however, some bass still bedding around the submerged grass and gravel bottoms as clear water has revealed some females still lingering around the fanning areas.
Bluegill and redear are hitting good. Crickets are producing best but some meal worms and red worms, along with small black grubs such as beetle spins and other larva imitations are good choices.
The bluegill and red ear are showing up in good numbers but that clear water is a factor. Most good bedding areas require you to lay off and cast light tackle while keeping the boat out away from the strike zone.
Grass continues to come on strong in many areas and that is a challenge for anglers working structure in hopes of tying into redear sunfish, commonly known as shellcracker. The redear often hold tight to cover and getting that bait into tight spots means loosing a few hooks, weights, and bobbers in the process.
Overall action has been consistent with some impressive stringers of bluegill and shellcrackers showing up these last two weeks on Kentucky Lake. There should be another couple of weeks of bedding action as another full moon arrives on June 1.
Crappie bounced back some this week as those 11 to 14 foot zones gave up some nice fish. Bites were a bit finicky but tipping a jig with a minnows seemed to entice bites.
Some days when light winds and cloud cover teamed up the fish showed more interest. A few days the bright sun and no wind at midday seemed to make the fish quite finicky, especially in the clear water.
Several crappie fishermen continue to drift and slow troll jigs and minnows over the main lake ledges and flats up around the power lines in Big Sandy. Catches of 25 to 30 fish before noon were showing up in the ice chests for some lucky anglers.
Vertical fishing jigs over stakebeds and brushpiles has worked well as the fish seem to want a slow presentation.
Catfish were moving toward shoreline rocks and bluffs this week as bank fishermen seemed to have increased activity. Still, some of the larger fish were hanging out in the main channel areas and holes where current was a factor in their whereabouts.
Cut shad, nightcrawlers, and leeches were the baits of choice with some anglers using goldfish and large shiner minnows.
Watch for those rocky banks to really turn on this week as the cats go on prowl and spawn.
Fishing continues to hold up well as Kentucky Lake anglers enjoy a continuation of favorable conditions in terms of lake levels, temperature, and wind.
For The Lake Barkley Report
Click Here
Also check out our past:
Kentucky Lake Fishing Reports
Steve McCadams
Steve McCadams is one of the nation's best known Crappie Fishermen and a full time resident of Paris, Tennessee. Steve is also a professional hunting and fishing guide here in the Paris Landing area.