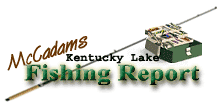 Brought to you by: Fishtale Lodge
Steve McCadams'
Kentucky Lake Fishing Report for:
May 11th, 2006
FULL MOON GREETS BEDDING BLUEGILL…BASS AND CRAPPIE BITE GOOD
Kentucky Lake anglers continue to hold on to good fishing conditions for a variety of species. Overall reports continue to verify a good spring season here for bass and crappie. Both bluegill and catfish action has improved this week too.
Observed lake levels show the reservoir residing near the summer pool mark of 359 at both Kentucky Dam and New Johnsonville as the weekend approaches. Lake levels were up a few inches earlier this week but began falling slowly at midweek and will be relatively stable going into the weekend unless heavy rains occur.
Some thunderstorms have dropped a lot of rain both here and to the south so there is a possibility the reservoir could rise again early next week due to runoff. TVA projections are not predicting any significant changes at this time but that is subject to change.
Surface temperatures have cooled some since last week as a few days felt like fall had arrived. Cool morning commanded a light jacket. This week's water temperatures were in the 69 to 73 degree range.
Water color is sporting some stain in the shallow areas as recent rains have delivered some runoff. Main lake areas remain clear in both the Tennessee River and Big Sandy embayment.
Several species have been hitting good but topping the list has been bluegill and redear sunfish, better known as shellcracker. Both species have been bedding for about two weeks now and with another full moon approaching watch for action to remain hot and heavy.
Hefty catches have been taken this week as anglers toss crickets, night crawlers, wax worms and other plastic imitations in the form of tiny grubs and beetle spin style lures on light spinning tackle.
The male or bull bluegill are sporting a handsome appearance as their dark, olive drab ventral side and bright orange belly distinguish them from the pale yellow tint of the females. A good bream bed will see mostly male fish guarding the area and hitting a bait that comes anywhere near their crater shaped spawning zones.
Sometimes the fish hit out of hunger and competition while other times they hammer anything that invades their space. During active spawning phases the males are the "keepers of the castle" and quite competitive for territorial rights.
Don't let this popular fishing phase pass you by. Watch for good bream fishing to last another couple of weeks as to bedding phases so get that future fishermen out there with you and let them feel the fast bite of aggressive bluegill. It's prime time to get kids introduced to the great sport of fishing.
Crappie anglers have scored well this week as a lot of fish are holding in that midrange depth zone of 9 to 14 feet. Cool and cloudy days have delivered some ideal fishing conditions that teamed up with light winds.
Submerged stumps, stakebeds, and brushpiles are giving up a lot of fish. Several different size crappie are mixed together right now so you'll find a few small fish right in there with some dandies at the same spot.
Baits of choice continue to be live minnows dunked around the structure, along with small jigs and jigs tipped with minnows. Popular colors have been unpainted leadheads or light green and black tipped with minnows.
Other skirt combinations have been black and chartreuse, motor oil with sparkle, chartreuse glitter, and blue and white, just to name a few. Tipping jigs with various scent attractants has also helped.
The post-spawn crappie phase here has held up well this year and several days have seen above average catches.
Bass fishing has remained good for anglers beating the banks where visible weedbeds, buck bushes, and willow trees have yielded fish for the last couple of weeks.
A combination of lures and techniques continues to produce. Topwater lures such as buzzbaits and floating worms have worked as have spinnerbaits, jig and pig combos, and Texas rigged lizards and worms.
Some anglers are backing off the banks and casting Carolina rigged lizards or large deep diving crankbaits and finding fish too.
Cooler weather seems to be keeping a lot of bass up shallow and the lake has been slightly above summer pool, inundating ample shoreline structure for both the fish and the fishermen.
Catfishing has been fair this week as the rock bluffs continue to appeal to spawning fish. Some decent stringers were taken off the rock island adjacent to Sulphur Well Island up Big Sandy. A few reports indicated fish coming from the rip-rap rock levees at Danville and the Ned McWherter Bridge approach on the Stewart County side.
For The Lake Barkley Report
Click Here
Also check out our past:
Kentucky Lake Fishing Reports
Steve McCadams
Steve McCadams is one of the nation's best known Crappie Fishermen and a full time resident of Paris, Tennessee. Steve is also a professional hunting and fishing guide here in the Paris Landing area.