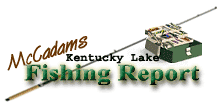 Brought to you by: Fishtale Lodge
Steve McCadams'
Kentucky Lake Fishing Report for:
April 9th, 2007
WARM WEATHER IN FORECAST AS COLD FRONT LOSES GRIP...CRAPPIE BACK OFF TO DEEPER DEPTHS BUT HITTING GOOD...BASS ACTION SLOWS AS SURFACE TEMPS PLUMMET
After five days of cold winds and falling temperatures it appears the drastic cold front will loosen its grip as weather is supposed to moderate beginning Monday. Anglers deserve a rapid return to action as the last five days have been tough as to high winds and cold temps.
Gale winds and bitter cold have challenged anglers during Easter week but surprisingly, crappie continued to hit pretty good the last few days although they did back off to deeper depths.
I found fish backing off the shallow beds this week due to falling surface temperatures and high skies. However, I was somewhat surprised to find fish still hitting in a fairly aggressive mood along main lake ledges in 18 to 24 feet. Yesterday I found some fish up in the 12 to 14 foot range as well.
Several of the fish coming from deeper water had not yet spawned, although occasionally we did catch some females that were relatively thin. And, finding a few dark males in the deeper water further showed the exodus of fish from shallow spawning zones out to deeper areas to ride out the cold front.
Surface temperatures Saturday afternoon had dropped down to 55 degrees in shallow areas but were in the 59 degree range out on the main lake. That's more than a 10-degree drop from a week ago at the same time in most areas.
Watch for a slow rebound in surface temps these next few days as warm weather returns.
Water color remains clear in the main lake but sporting some good stain in shallow areas and secondary bays where wind has stirred up sediments. Overall it's a good fishing color.
Present lake elevation at Kentucky Dam is 356.3. Upstream at New Johnsonville and in the Paris Landing sector lake levels are in the 356 range. That's up a few inches from earlier in the week as the reservoir is rising slowly on TVA's curve for spring filling and will reach summer pool (359) on or around May 1.
The week ahead should seen better fishing conditions for both bass and crappie anglers as the pestering northwest winds will disappear and allow more movement by fishermen on the lake.
Some shallow action should resume for crappie as a few will move back up to attempt spawning once surface temps climb back into that 62-66 degree range. It was a very early spawn this year as March was one of the warmest on record and many fish began spawning the last week of March.
However, all the fish have not spawned so watch for increased activity this week in that 4 to 8 foot area with a lot of fish lingering in the 8 to 13 foot zones as well on both the main lake flats and larger bays.
I don't expect to see a major migration of crappie back to shallow venues but action should improve there somewhat. Once spawns are interrupted by severe cold fronts it seems the fish never totally recover as to their will to move shallow in aggressive modes.
Still, the post-spawn phases will offer some decent fishing to anglers working the midrange depths of 9 to 14 feet in the days ahead and it appears a lot of fish will continue to relate to structure in the main lake where drop-offs offering 15 to 25 foot depths will produce fish.
Popular techniques this week have been vertical jig presentations over manmade fish attractors, along with drifting, slow trolling spider rigs, and pulling long lines of tube skirts and curly tail grubs, Road Runners, etc...
Casting small grubs and other jigs was working well earlier in the week but the windy days and cold front diminished the appeal of that technique for a few days. That technique could resume in appeal by midweek.
Popular colors have been a wide variety of combinations ranging from purple/chartreuse to chartreuse variations with metal flake. Live shiner minnows have also appealed this week as tipping jigs has enticed bites while many of the deep water, bottom bumping rigs have experienced success just using minnows.
Bass seemed to slow down this week, especially in shallow water as the quick surface temp change threw a curve to those shallow rock banks, gravel points, and wood structure that had been giving up consistently for the last few weeks. It's likely the fish are there but just turned off by the high pressure and cooler temps.
Watch for a rapid return of bass action to shallow venues by midweek. And, with slowly rising lake levels those yellow flower type weeds will begin to harbor fish where worms, topwater, and spinnerbaits will produce.
Some veteran bass anglers are still finding smallmouth out away from the shoreline as they work gravel humps and other topography away from shallow banks with hair jigs, crankbaits, and suspending jerk baits.
Kentucky Lake's normal rise toward summer pool begins on April 1. At that time a gradual increase in lake elevation occurs, barring any drastic rains or floods upstream. The reservoir is slated to reach summer pool of 359 on or around May 1st each year.
For The Lake Barkley Report
Click Here
Also check out our past:
Kentucky Lake Fishing Reports
Steve McCadams
Steve McCadams is one of the nation's best known Crappie Fishermen and a full time resident of Paris, Tennessee. Steve is also a professional hunting and fishing guide here in the Paris Landing area.