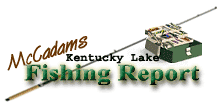 Brought to you by: Fishtale Lodge
Steve McCadams'
Kentucky Lake Fishing Report for:
April 9th, 2004
CRAPPIE SPAWN UNDERWAY…UPPER BIG SANDY GETS HEAD START
Since last week crappie action has improved throughout much of Kentucky Lake as warmer surface temperatures send fish toward shallow areas.
Spawning will likely begin this weekend in some areas, especially the upper Big Sandy basin where the shallow water there tends to warm quicker than other parts of the reservoir.
A cold front early this week seemed to push the fish back somewhat and delayed active spawning phases that were about to begin. That's not all bad for anglers, as action should really turn on this week with the arrival of warm weather and light winds.
Crappie will begin spawning around 62 degrees but much prefer some stability in the 64 to 66 degree range. The cold nights lately have kept the surface temperature below that range, although the daylight hours have seen some rebound.
At midweek surface temperatures in the upper Big Sandy area around New Hope and Country Junction were in the 64-degree range will the Paris Landing area was still hovering around the 60 degree mark.
Crappie have been taken this week in a variety of depths and techniques. Seems that's always the case this time of year as anglers are offering a variety of presentations in different depths and at different locations throughout the lake.
Talk to one angler and he caught fish in four-foot depths around Sulphur Well Island or Swamp Creek. Check with another one and he found fish on the deep ledges in 21 feet at the mouth of Big Sandy near Paris Landing.
TWRA creel clerk Bill Heathcott was working the Big Sandy area on Monday and Wednesday and said there was a big difference in the success of anglers from early in the week.
On Wednesday he had checked 251 anglers by noon with very few fish seen in the upper Big Sandy area. The most he had seen was one boat with 15 fish that had been at it since daylight.
"There were several boats with only three or four fish and it seemed the fish has shut down or moved at midweek," said Heathcott. "The fish are really on the move and every day is different out there right now it seems."
However, earlier in the week he said some good catches were observed in the upper Big Sandy area while action seemed to be off in West Sandy.
Most of the big catches this week have come from the 10-foot zones where anglers have found fish relating to brush, stumps, and stakebeds. Most of the big females are still holding back off the banks and waiting for conditions to be just right before moving up and dropping eggs.
I found fish scattered in my stakebeds early this week and decided to fall back to deeper ledges after yet another cold front Monday sent surface temps back down to 58 here at Paris Landing. Some big slabs were taken on the deep sides of the drop-offs as we worked live shiner minnows and jigs tipped with minnows.
Most all of the big fish were females, an indication the fish were not quite ready to spawn due to their depth location.
This time of year the females will sport a white or pale appearance. The male crappie have that dark, purple tint in their skin. It's easy to spot the difference, especially once you toss the fish on ice.
Several male crappie have been taken this week along rock banks and the tops of sandbars or flats in 4 to 8 foot depths. That's typical as the males move up first and seek shallow venues while the females lay out in deeper zones until surface temperatures are ideal.
Watercolor is quite clear in much of Kentucky Lake and that's a factor in the depth of spawning. In dingy water the fish will come shallow but clear conditions mean the fish hold off the banks and spawn elsewhere as the sunlight penetrates and meets their needs.
A lot of fish have been caught this week around the power lines in Big Sandy and all over the upper basin by anglers drifting, slow-trolling, and pulling multi-pole rigs where a variety of baits are set at different depths.
When fish are on the move or scattered these type techniques really work well.
Meanwhile, lake levels are on schedule as TVA continues to allow the lake to rise slowly. Observed elevation going into the weekend will be 356.1 in the New Johnsonville area and only a few inches higher at Kentucky Dam.
Anglers can expect the lake to keep rising slowly next week.
Popular jig colors are ranging from lime green leadheads tipped with clear skirts and metal flake to some pearl and sparkle, white and chartreuse and some motor oil skirts with metal flake.
Look for action to really get going this week throughout the area as crappie respond to warmer weather. Anglers are keeping their fingers crossed in hopes that cold fronts and high winds will stay out of the picture.
Meanwhile, bass anglers are still reeling in some hefty fish. Anglers tossing jig and pig combos, Tennessee Shad colored crankbaits, and chartreuse and white spinnerbaits have taken several bass in the 5-pound range.
Some fish have moved up on shallow wood in the backs of bays this week. And, some angles are finding treelaps or shallow stumps holding fish as well.
Watch for action to improve in the topwater department this week. And, it's time to start tossing that lizard or worm too.
Anglers are still a couple of weeks away from any shoreline buck bush or willow tree fishing as water levels are not there yet.
Those dead grass banks and rocky points, along with roadbeds and some boathouses are giving up most of the fish right now.
For The Lake Barkley Report
Click Here
Also check out our past:
Kentucky Lake Fishing Reports
Steve McCadams
Steve McCadams is one of the nation's best known Crappie Fishermen and a full time resident of Paris, Tennessee. Steve is also a professional hunting and fishing guide here in the Paris Landing area.