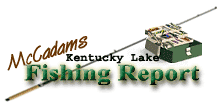 Brought to you by: Fishtale Lodge
Steve McCadams'
Kentucky Lake Fishing Report for:
April 8th, 2005
CRAPPIE SPAWN UNDERWAY AS LAKE LEVELS RISE
Spring fishing is alive and well.
Crappie fishing is good here on Kentucky Lake. Anglers are landing some hefty stringers every day and a variety of depths and patterns are producing.
The reservoir is somewhat ahead of schedule as to lake levels on TVAís curve. Normally, early April sees the lake begin a slow rise from the low lake levels of winter pool. However, the lake is almost two feet ahead of schedule as readings this weekend were expected to rise to around 357.4 in the New Johnsonville area while Kentucky Dam is reporting 357.5.
Surface temperatures have changed this week and rebounded a few degrees after a cold front last Saturday. Late last week surface temperatures were in the 59 to 62 degree range but fell back to 56 to 58 over the weekend. By Tuesday the warm sun had surface temperatures rebounding and climbing back into the 60 to 63 degree range.
Some crappie appear to be spawning already but the big thrust of fish will likely occur this weekend and throughout next week. Their desired spawning temperature range of 62 to 66 is almost here. Several fish are on the threshold and waiting for a day or two of warm weather.
The upper Big Sandy and West Sandy areas are usually two to four degrees warmer than other sectors of the lake due to the shallow basin so spawning normally begins there first.
However, some good size fish are still lingering on the main lake ledges in depths of 16 to 20 feet too.
This week Iíve taken several fish from my beds in the 7 to 12 foot zone. The shallow beds were holding a few dark male crappie while the deeper areas were producing mostly egg-laden females.
Watercolor was stained late last week but the rising lake levels have pushed the dingy water back into the upper ends of bays and rapid clearing has occurred the last few days.
Heavy rains Wednesday, accompanied by gale winds from the east, could send some dingy water back to bays, as there was a lot of runoff.
With the return of clear water, many crappie will find their spawning habitat in deeper structures such as 5 to 10 foot manmade fish attractors and shallow stump beds.
I found fish moving into shallow structure this week and took some good stringers while vertical fishing black and chartreuse combo colored jigs. And, several fish were also taken while casting grubs on light tackle, as backing off the shallow structure located in clear water seemed to produce more strikes.
There are still some big fish relating to brush and stumps out on the main lake. Some anglers were tightlining minnows on bottom bumping rigs and landing some dandies while others were tightlining blue and chartreuse combo colored tube jigs.
Other popular techniques producing have been trolling small Road Runner jigs and spider rigged presentations where the multipole rigs offer a buffet of baits to suspended crappie.
Anglers drifting and slow trolling jigs and minnows in the New Hope and Country Junction area have had good fishing this week. Productive depths there have been 7 to 10 feet.
Fish are a bit deeper down around the Sulphur Well Island area and the TVA power lines at Mansard Island while some shallow fish were taken throughout the Elkhorn and Swamp Creek sectors, especially during late afternoon outings where the lowlight conditions saw fish move up shallow.
With the abundance of fish and scores of anglers testing the water, itís not unusual to see several different depths and techniques working at the same time.
While the bulk of the fish are now in the midrange depths in-between deep and shallow areas, a lot of movement is underway as rising waters and temperatures stimulate the first phases of spawning.
Barring any drastic rains and jump in lake levels, the fish will likely complete their spawning long before the water reaches shoreline habitat later this month.
Bass anglers are finding some big fish this week. Some 5-pound plus smallmouth have been taken off rock bluffs and points. And, some big largemouth have been taking crankbaits off rock banks, along with slow rolled spinnerbaits around piers, boathouses, and shallow wooded structure such as logs or stumps.
Some anglers are tossing Carolina rigged worms and lizards along long points and finding a few bass staging out from shorelines. Other patterns producing have been chrome colored Rattle Traps fished on mud banks and in the backs of shallow pockets off the main lake.
Watch for suspended jerk baits and some topwater action to enter the picture this week too.
Overall fishing continues to hold up well here for bass and crappie anglers. High winds and rising lake levels have altered patterns somewhat but fishing is good.
For The Lake Barkley Report
Click Here
Also check out our past:
Kentucky Lake Fishing Reports
Steve McCadams
Steve McCadams is one of the nation's best known Crappie Fishermen and a full time resident of Paris, Tennessee. Steve is also a professional hunting and fishing guide here in the Paris Landing area.