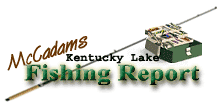 Brought to you by: Fishtale Lodge
Steve McCadams'
Kentucky Lake Fishing Report for:
April 7th, 2006
SPAWN UNDERWAY HERE AT "CRAPPIE CAPITAL"
Spring has sprung.
Here at Kentucky Lake there's no need for calendars. Just check out the panfish navy which sets sail whenever the crappie head shallow. That's when you know the season has changed.
Spawning is underway here at the "Crappie Capital" as warm weather made its presence known this week. Surface temperatures have climbed to the 64 to 66 degree range, crossing that magic threshold that stimulates the king of the panfish to head shallow.
Each year the annual ritual takes place whenever a combination of conditions team up, namely warm weather, rising lake levels and stable surface temperatures. All that has coincided this week and legions of anglers have been on the lake taking advantage of prime time fishing.
After a blustery start this week, things calmed down to allow fishermen back out on the lake where feisty fish were waiting their arrival. Several hefty stringers of crappie have been taken this week throughout the Paris Landing and upper Big Sandy area.
While spring weather is still capable of upsetting the apple cart here in early April, anglers have enjoyed some pretty days lately with gentle breezes and warm sunshine.
Dogwoods and redbuds are confirming spring, as are the big slab crappie that ventured back shallow at midweek after a brief hiatus on Monday. Strong weekend storms that spawned tornadoes in the region also dealt a mean blow to the fishing but action bounced back quickly at midweek.
Presently, Kentucky Lake continues its slow climb as to lake levels and surface temperatures. Overall fishing conditions have been good for both bass and crappie anglers as they pattern the movements of hungry fish.
According to TVA projections the reservoir will rise a few inches each day and reach the 356.9 mark at Kentucky Dam by Saturday. Upstream at New Johnsonville lake levels will be in the 355.6 range going into the weekend, which is up from last week at this time.
Water color remains a bit clear in the Paris Landing sector while a little more stain is present up Big Sandy and in West Sandy. Some creeks along the Tennessee River have a bit of dingy water in the upper end from slight runoff and high winds stirring up sediments.
A lot of fish have been taken this week as anglers continue to use a variety of techniques in different depth ranges. While the crappie are moving up to spawn, it seems there's always some fish lingering on the main lake ledges in deep water, perhaps waiting for the second or third wave of migrational movement.
Some anglers were drifting jigs and minnows over main lake flats this week and finding some scattered fish while others were using the time-tested, double-hook Kentucky Lake bottom bumping rig and scoring good numbers.
Slow trolling twister-tail grubs and small in-line spinners such as Road Runners and Mepps has worked too. Also producing has been the casting efforts of some anglers who found success while tossing chartreuse grubs over midrange stump fields in depths of 7 to 12 feet.
Not to be overlooked is the popular vertical style of fishing where dropping that jig or minnow down in submerged structure has paid big dividends. Even finicky crappie have trouble resisting a bait place right in their face.
Popular color choices have ranged from a variety of chartreuse and glitter skirts to some dull colors such as motor oil, clear, and pearl. Skirts with metal flake have been popular and some leadheads in the black, red, and lime green have been attractive as well.
Male crappie entered shallow water early last week and the bulk of females have been laying back a bit off the bank and staging in 6 to 12 foot depths. While all the fish don't spawn at the same time, the stage is set for the upcoming week to be peak time.
It's quite likely some fish will wait another week to ten days before spawning. Perhaps that's Mother Nature's way of spreading out the festivity, making sure some of the fish hit things just right and their young of the year aren't threatened by changing lake levels or uninvited cold fronts.
Unlike other gamefish species such as bluegill, white bass, and largemouth, crappie broadcast their eggs around structure such as treetops, bushes, stumps, and even grassbeds. That's why habitat is so vital to sustaining a good crappie fishery and here on Kentucky Lake we've been blessed to have a combination of factors working together to give us an above average crappie population for many decades.
So if you're waiting for some good reports before going crappie fishing then wait no longer. The time is at hand!
In the bass department things continue to hold up good as anglers are landing some big largemouth thus far. A few fish have eclipsed the 7-pound mark lately in the largemouth arena but not too many trophy smallmouth have been taken.
While there's no doubt hefty smallmouth remain in the reservoir, it seems declining numbers of bronzebacks have puzzled some local experts.
Meanwhile, it's still taking a 3-pound plus average to take the top spot in local tournaments and some events have seen winning stringers require a 4-pound average.
Popular patterns continue to be crankbaits worked slowly on rock and gravel points. Crawfish, Tennessee Shad, red and black, chrome, and root beer colors have worked well.
Spinnerbaits worked slowly around exposed structure have accounted for some good fish this week as have some worms and soft plastic jerk baits.
Some topwater action will no doubt enter the arsenal this week as waters warm and fish get more aggressive as to tagging a surface bait.
Things are on schedule here as to fishing patterns and lake levels. Don't let anything interfere with your scheduled fishing trips this spring.
For The Lake Barkley Report
Click Here
Also check out our past:
Kentucky Lake Fishing Reports
Steve McCadams
Steve McCadams is one of the nation's best known Crappie Fishermen and a full time resident of Paris, Tennessee. Steve is also a professional hunting and fishing guide here in the Paris Landing area.