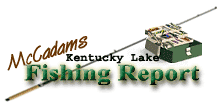 Brought to you by: Fishtale Lodge
Steve McCadams'
Kentucky Lake Fishing Report for:
April 6th, 2007
COLD FRONT CONFUSES FISH AND FISHERMEN ALIKE
Sooner or later it had to happen. A spring cold front that is.
On Wednesday a drastic weather change greeted anglers, escorted by bone chilling northwest winds that sent fishermen back to the closet for more clothes. Cold weather is expected to linger for a few days before a warm up arrives on Monday.
Odds are the high skies and cold temperatures will cool off the hot crappie spawn for a few days here on Kentucky Lake. While action may slow down, anglers really can't complain much as it has been an above average spring thus far in terms of both weather and fishing success.
Surface temperatures were in the 68 to 70 degree range on Monday but by Wednesday afternoon they were falling slowly to 65. Anglers can expect the decline to continue throughout the weekend as cold nights will continue to hold a grip.
Observed lake levels are holding relatively stable. At Kentucky Dam the elevation was predicted to be 355.8 going into the weekend. Upstream at New Johnsonville and the Paris Landing sector lake levels were expected to be in the 355.6 range. Those readings are up only a few inches from last weekend.
Water color is clear in the main lake but some stain has entered bays and creeks this week in the aftermath of rains and high winds.
How will the cold front affect the crappie spawn now underway? Anglers are likely to see the shallow action diminish this weekend as the high pressure teams up with rapidly falling surface temperatures to push crappie back out to deeper depths and turn off the aggressive bite that has been underway for over two weeks.
It appears the first wave of crappie spawned last week as action was aggressive and some hefty stringers of fish were taken in shallow zones around structure. And, male crappie were really moving up fast too and homesteading shallow structure such as stumps, brushpiles, and stakebeds in 3 to 6 foot depths.
There are still some crappie lingering on the main lake ledges that have not yet spawned. A few good fish were taken in the 18 to 24 foot zone this week as anglers tightlined jigs and bottom bumping minnow rigs around drop-offs.
Other productive techniques have been drifting, long-line pulling, and slow trolling spider rigs as some fish were suspended in 9 to 13 foot depths out over much deeper water.
Popular jig colors have been chartreuse with glitter, red-chartreuse, blue-chartreuse, and purple-green combos. Tipping jigs with minnows has helped stimulate bites during the cold front.
Earlier in the week casting curly tail grubs in the pearl, chartreuse with sparkle, and red and white with glitter was working well. However, watch for crappie to be sluggish for a few days and somewhat unwilling to run down fast moving baits in favor of vertical presentations or baits moved very slowly right in front of them.
The cold spell may well see crappie back off the shallow areas and pull back toward deeper water as they wait out the weather change. Suspending out over deeper areas and not relating to structure may well be the norm for a few days as the fish react to the drastic drop in surface temps.
Wednesday afternoon I could detect a very finicky bite compared to the day before and even that morning. Cold fronts have an adverse affect as the high barometric pressure seems to have a negative influence for a few days.
Beds that had been giving up 6 to 8 fish at a fast pace were only producing two or three fish by Wednesday afternoon.
Spawning could resume by next Tuesday or Wednesday but it's unlikely anglers will see a big migration of fish back toward shallow zones. Since many fish have spawned early due to the unusually warm March weather, the late wave of spawners may be lower in numbers with some fish spawning much deeper due to the clear water.
Sometimes crappie will reabsorb eggs and not spawn if cold surface temperatures disrupt their second attempt. So a lot depends on the duration of the cold front now at hand and next week's weather as well.
Meanwhile, watch for deep ledges in the main lake and suspended patterns to produce best these next few days as crappie react to the weather change. There's still some decent fishing ahead but the cold front preceded by the warm March weather has altered this spring's spawning agenda.
Bass action has also been affected by the cold front as those shallow fish that have been running the gravel banks and rock points were already beginning to move up toward spawning territory. A lot of buck bass were seen last weekend working around very shallow structure and mud banks.
The shallow fish may well have a mood swing with a temporary dose of lockjaw for a few days until surface temps rebound early next week. Anglers had been finding fish taking some topwater, spinnerbaits, crankbaits, and suspending jerkbaits and worms.
A slower approach may be in order for a few days as fish are likely to avoid chasing down a fast moving lure.
Rising lake levels could put some water into shallow grassbeds by late next week and if warm weather returns action could resume quickly.
Until this week it had been a spring full of warm days and light winds. It was bound to happen as cold fronts are part of spring fishing. Always have been; always will be.
It just hurts everyone's feelings as things were going so good. Sunscreen one day and overcoats the next. Right now the fish and the fishermen are a bit off keel due to the weather change but soon the music will resume and so will the dance.
For The Lake Barkley Report
Click Here
Also check out our past:
Kentucky Lake Fishing Reports
Steve McCadams
Steve McCadams is one of the nation's best known Crappie Fishermen and a full time resident of Paris, Tennessee. Steve is also a professional hunting and fishing guide here in the Paris Landing area.