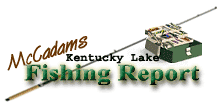 Brought to you by: Fishtale Lodge
Steve McCadams'
Kentucky Lake Fishing Report for:
April 4th, 2008
STUBBORN SPRING SEES CRAPPIE SPAWN APPROACH
Anglers are asking about the crappie spawn here on Kentucky Lake and it appears the annual ritual is approaching but a stubborn spring has influenced the time table.
Surface temperatures this week climbed into the 55 to 57 degree range but warm sunny days have been hard to come by. Pesky north winds one day and rain with northeast winds the next have seen cooler temperatures linger.
Once surface temperatures reach the 62 to 66 degree range crappie will hit the active phase and blitz toward shallow areas. Spawning will likely begin next week as some warm days are in the forecast.
The slow warm up hasn't been all bad as high lake levels the last few weeks have added to the misery for both the fish and fishermen who have been thrown off course by the turmoil of changing conditions.
Lake levels continue to be a big factor and TVA began pulling water at midweek after the reservoir crested some eight feet above normal for this time of year. TVA continues to revise its projections on lake levels on a daily basis.
Presently, lake levels in the New Johnsonville area are in the 360.2 range and falling. At Kentucky Dam the reading is slightly higher at 360.4 and falling.
Heavy rains both here and to our north will continue to alter the drawdown schedule. Just how far down TVA will go on its drawdown curve remains to be seen as the agency is dealing with a lot of variables.
Overall water color is pretty good in the Paris Landing area as some stain is present in the upper ends of bays and creeks while the main lake area is dingy but has a good color for fishing.
Crappie have been scattered the last few days with a lot of fish still lingering on make lake ledges in depths of 18 to 24 feet. Some fish attempted to move up into midrange depths of 12 to 14 feet in this area where stakebeds, stumps, and brush piles were giving up a fish now and then.
While a few reports up Big Sandy had anglers finding fish along shoreline buck bushes and trees that has not been the case in the Paris Landing area.
Some big crappie have been taken with several slabs eclipsing the two-pound mark but numbers of fish have been somewhat below average due to high winds and abnormal lake levels. The overcoat and raingear have been standard attire this spring.
A few anglers have scored while vertical fishing jigs around stakebeds and brush piles. Others have used bottom bumping, double hook rigs for deep water techniques where both jigs and live minnows have worked on the drop-offs.
Several scattered boats have been drifting along the flats of Big Sandy and pulling long lines where bobbers regulated depth and some suspended fish were taken. During high water periods crappie often suspend and scatter in open water areas so the drifting or slow trolling techniques work about as well as any.
Look for action to improve by early next week as the fish take on a more "structure oriented" mood. A few warm sunny days will really stimulate movement in the days ahead.
Male crappie have shown more hormonal changes since last week at this time, displaying a darker appearance, which is another indication spawning time is fast approaching.
Bass action continues to hold up well and while crappie anglers have suffered during the unstable lake levels and weather patterns bass anglers have consistently taken hefty stringers.
This week fish were coming from trees and buck bushes along shorelines where pitching and flipping crawfish, lizards, and jib and pig combos have worked well. Texas rigged worms have produced some fish too as have spinnerbaits slow rolled over submerged bushes and grassbeds.
Crankbaits around rock and gravel have also produced some good fish lately. Although not much has happened in the topwater department watch for that to change quickly this week as surface temps rebound.
Current has entered the picture so main lake points, river islands, and bridge piers will harbor some fish too. And, a few white bass and stripers are showing up as well.
Anglers who fish the backwaters of West Sandy, Big Sandy and Camden bottoms will likely see those areas hold water for quite a spell and the high water has likely helped restock them to some degree.
It has been a messy spring thus far but it appears the weatherman may have a mood swing and finally send some nice sunny days our way. Good fishing conditions here are long overdue.
For The Lake Barkley Report
Click Here
Also check out our past:
Kentucky Lake Fishing Reports
Steve McCadams
Steve McCadams is one of the nation's best known Crappie Fishermen and a full time resident of Paris, Tennessee. Steve is also a professional hunting and fishing guide here in the Paris Landing area.