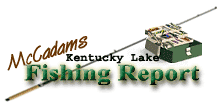 Brought to you by:





April 28, 2011

BLUEGILL/SHELLCRACKER BITE UNDERWAY…LAKE LEVELS RISING


Bluegill and shellcracker's enthusiasm level was rising about as fast as the elevation on Kentucky Lake this week despite crazy thunderstorms that drenched the region.

Although lake levels are changing daily, the rusty rascals are hitting good and will likely hold on to an aggressive attitude as active spawning phases enter the picture. Every year about this time these powerful panfish go on a tear and anglers can enjoy fantastic fishing.

Last year about this time Kentucky Lake's elevation swelled above normal but the bass bite and spawning phases of bluegill and shellcracker held up quite well. Anglers are hoping these species continue to cooperate.

Dominating the fishing scene this week has been fast rising water. Heavy rains both here and to our north will continue to influence as the Mississippi and Ohio Rivers are flooding, which diminishes TVA's ability to discharge water through Kentucky Dam.

At midweek elevation was around the 364 range with a forecast going into the weekend above 366. TVA's forecast is changing on a daily basis. Normal summer pool elevation is 359.

In early May of last year the reservoir almost reached the all time record high of 369.9, which was recorded back on May 11, 1984.

Surface temperatures were in the 64 to 68 degree range as cooler night and heavy rains had an influence but all it takes is a day of warm sunshine to stimulate the bass and bluegill bedding phases.

While rising lake levels can scatter fish and muddy water entering the main river channel adds another piece to the fishing puzzle, anglers can still enjoy some good action during high water.

Bluegill and shellcracker will move up to shallow spots in the days ahead and follow the rise in their quest for fanning spots. These backwater balls of fury prefer areas off the main lake anyway so their locations and attitudes are not usually affected as much as other species.

Bass will move up too but often relate to the original shorelines for a few days where submerged grassbeds and buck bushes appeal.

Tossing a spinnerbait across shallow flats and pockets where submerged bushes hold fish will be a good lure choice as will some Carolina rigged lizards. Soon the pitching and flipping techniques will be popular as fish enter the thick, visible cover. It's imitation lizard and crawfish time for sure!

The longer the water stays high the more bass will move to shallow spots. Meanwhile, crappie will scatter some and likely enter a few shoreline buck bushes in the week ahead although a mass migration isn't likely.

A few crappie will remain on main lake structure where the tops of drop-offs and ledges will hold on to a few that will ride out the changes there on the main lake. It is difficult to pattern crappie once lake levels rise fast and muddy water enters the picture and that's a likely scenario for the week ahead.

Catfish are already on the prowl as rising waters have sent them toward any feeder creek where fresh water has been entering the reservoir. Watch for action to increase in shallow zones as catfish move up with the rising lake levels and occupy shorelines and spots near bedding bluegill.

To the saga of this spring's weather add yet another chapter. The fish and the fishermen now have a lot more places to go!


Also check out our past:
Kentucky Lake Fishing Reports

Steve McCadams is one of the nation's best known Crappie Fishermen and a full time resident of Paris, Tennessee. Steve is also a professional hunting and fishing guide here in the Paris Landing area.