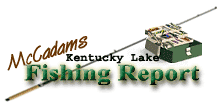 Brought to you by: Fishtale Lodge
Steve McCadams'
Kentucky Lake Fishing Report for:
April 29th, 2005
FISHING ON THE UPSWING AS WARMER
WEATHER RETURNS
Viewers can see segments of Steve's "Casting For A Cure" Kids Fishing Rodeo airing the next few weeks on PBS stations across Tennessee. Check listings for the program "Tennessee Wildside", which features Steve working with kids and benefiting the American Cancer Society.
(Update May 1st, 2005)
Anglers are in need of some warm sunshine and stable weather. Conditions this week have been cooler than normal and it has had a negative impact on bluegill and bass bedding.

Lake levels were rising today (Saturday) after heavy thunderstorms drenched the area on Friday. TVA indicates the reservoir will continue to rise throughout the weekend and into next week with predictions of 359.6 at Kentucky Dam on Sunday but cresting and falling slowly on Tuesday to 359.4.

Upstream at New Johnsonville the reservoir was also rising and slightly above the summer pool mark today (Saturday) with a reading of 359.3. Elevation at NJ is expected to fall back to 358.9 by Tuesday, based on TVA's present forecast.
Fishing is on the upswing here on Kentucky Lake after last weekend's uninvited cold front. Gale winds whipped whitecaps up all over the lake last Saturday and Sunday, escorting cold temperatures that almost set all time record lows.
By midweek the sun peaked out and reminded anglers spring was still the season of choice. However, surface temperatures fell nine degrees over the weekend and confused shallow fish such as bass and bluegill that were on the threshold of spawning.
Things are improving daily as warmer weather returns and lake levels continue to rise. TVA indicates the reservoir will be at or near summer pool elevation (359) by this weekend.
At midweek (Wednesday) the reservoir was in the 358.4 range at New Johnsonville and somewhat higher at Kentucky Dam with a reading of 358.8. TVA is not discharging much water through the dam so lake levels will rise slowly for a few more days. Look for stable lake levels beginning early next week barring any drastic rainfall.
Surface temperatures were around 71 degrees last Friday only to fall to the 62-degree mark earlier in the week. A gradual rise in surface temperatures began Wednesday, courtesy of some warm sunshine.
Watercolor is showing a good stain in many bays this week in the aftermath of high winds and some runoff from thunderstorms. The main lake area of Big Sandy is still clear while the Tennessee River is sporting a good stain for fishing.
Crappie continue to hit pretty good in the Paris Landing area and up Big Sandy around New Hope, Country Junction, Sulphur Well Island, and near the power lines at Mansard Island. Fish in those zones were relating to the 9 to 13 foot depths.
Popular techniques continue to be slow trolling and drifting. Long lining of jigs and small spinner type baits were producing, as were some crankbaits.
Other productive techniques have been vertical presentations of 1/16 and 1/8 ounce jigs over manmade fish attractors in the upper Big Sandy and Paris Landing sectors. Depths of 9 to 14 feet have paid off best.
Live minnows have worked well and jigs tipped with minnows are also producing. The crappie continue offer a light strike and are not too aggressive on taking a bait right now, which is a common occurrence after spawning.
Watch for crappie to improve in the weeks ahead as they relate better to structure and settle down from the spawning ritual. While most crappie have spawned, there may still be a few late ones lingering out there with eggs.
Bass action has held up well for most anglers, although action slowed for a couple of days in the aftermath of the cold front and high skies. With cloudy, rainy days back in the forecast, watch for bass to become more active in the shallow weedbeds and buck bushes.
Rising lake levels have improved shoreline habitat that was too shallow last week. Anglers can expect bass to be on the bed this next week as warmer surface temperatures return.
Floating worms, flukes, assorted jerk baits and buzz baits will be popular choices, as will spinnerbaits, Texas rigged lizards and worms, and jig'n pig combos. Some fish may also be taken on Carolina rigged lizards off sloping gravel points back in creeks.
Some shallow running crankbaits are also worth tossing around logs, shallow bushes, and rocky points.
Bluegill and redear sunfish (shellcracker) action is improving after taking a short hiatus during last weekend's cold front. Look for bedding action to resume this weekend and into next week as these popular panfish enter the spawning phases.
Although action has been off for the bluegill and shellcracker this week, a couple days of warm weather will see these fish bounce back quickly.
Catfish are on the prowl too and heading toward rocky banks in search of spawning territory. Expect shoreline and rock bluffs to attract catfish the next two weeks.
For The Lake Barkley Report
Click Here
Also check out our past:
Kentucky Lake Fishing Reports
Steve McCadams
Steve McCadams is one of the nation's best known Crappie Fishermen and a full time resident of Paris, Tennessee. Steve is also a professional hunting and fishing guide here in the Paris Landing area.