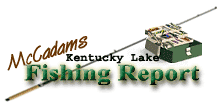 Brought to you by: Fishtale Lodge
Steve McCadams'
Kentucky Lake Fishing Report for:
April 28th, 2006
BASS AND CRAPPIE ACTION GOOD…BLUEGILL AND CATFISH SPAWN APPROACHES
Fishing continues to hold up well for crappie and bass anglers here on Kentucky Lake. And, action is improving daily for other species such as bluegill, redear sunfish (shellcracker), and catfish.
Some hefty stringers of crappie continue to come in from anglers working midrange structure in the 9 to 14 foot zones. And, a few fish are coming from deep ledges in the main lake where anglers are finding them in the 20 to 25 foot depths.
Most of the crappie are in the post-spawn phase but a few fish were making a late blitz this week as some females were dropping eggs in deeper areas. While there's no doubt the bulk of crappie have spawned, action has held up quite good for anglers this week as fish were relating to structure and sporting an appetite.
Despite a midweek cold front that really dropped temperatures courtesy of a cool north wind, the fish seemed to remain in the biting mood.
Popular lure choices have been jigs tipped with minnows, worked in a vertical presentation around those submerged stake beds and brush piles. Several color combinations have worked but the crappie seemed to really favor that live minnow lately, which is typical of finicky, post-spawn crappie.
Small jigs in the 1/16 and 1/32-ounce range seemed to attract more bites than larger size leadheads this week.
Bass action has been good this week with a lot of fish caught by anglers tossing lizards, spinnerbaits, topwater and some Carolina rigs. Several cloudy days really stimulated the bite for shallow fish relating to weedbeds, willow trees, and buck bushes around the shoreline.
Water levels have been sufficient to inundate an abundance of visible cover, offering bass anglers ample targets.
The bottom line is that a lot of bass have been caught this week as the fish have been aggressive.
Last week TWRA fisheries division was conducting annual fish surveys by electro shocking here in the Paris Landing and West Sandy and Big Sandy areas. While official data is still being tabulated, reports indicate good numbers of bass were seen with a variety of year classes.
The survey seems to indicate there's a healthy bass fishery in Kentucky Lake right now with a bright future.
Meanwhile, in the opinions of several local bass anglers the larger bass appear to have already spawned. Last week's warm weather and full moon likely proved tempting to many bass, which bedded earlier this year than in times past.
Productive techniques and lures this week have been spinnerbaits worked around grassbeds where topwater jerk baits and buzz baits have also produced. Floating worms and fluke-style baits are working as are Texas rigged worms and lizards in the green pumpkin-pepper, black, and red shad, just to name a few.
Topwater jerk baits such as Storm's Chug-Bug and Thunderstick, along with Bagley's Bango Lure have been popular choices.
Some anglers are working Carolina rigged lizards and large crankbaits around long points and sloping ledges, hoping to find some larger fish already pulling off shorelines in a post-spawn pattern.
While a few scattered smallmouth are showing up, anglers working those secondary ledges are only finding small numbers of bronzebacks.
Bluegill and shellcracker are on the threshold of spawning. Anglers can expect significant improvement from these popular panfish in the weeks ahead as waters warm. Several decent catches have been reported this week but the best is yet to come, although the shellcracker are already showing signs of activity around those scattered buck bushes and weedbeds.
Catfish are prowling the shallow areas and heading toward rock banks and other spawning areas. Several large fish were taken this week in shallow water so watch for increased activity the next two weeks.
Kentucky Lake water levels were falling slowly at midweek but are expected to rebound some and rest near the summer pool mark this weekend. Present readings are 359 at Kentucky Dam and 358.8 at New Johnsonville.
Watercolor remains clear in most of the reservoir. Some stain was present in small pockets just off the main lake.
Surface temperatures cooled some at midweek and dropped into the 69 to 71 degree range. Watch for temps to climb back into the mid 70's this weekend.
For The Lake Barkley Report
Click Here
Also check out our past:
Kentucky Lake Fishing Reports
Steve McCadams
Steve McCadams is one of the nation's best known Crappie Fishermen and a full time resident of Paris, Tennessee. Steve is also a professional hunting and fishing guide here in the Paris Landing area.