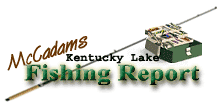 Brought to you by: Fishtale Lodge
Steve McCadams'
Kentucky Lake Fishing Report for:
April 27th, 2007
BLUEGILL AND BASS BEDDING UNDERWAY…CRAPPIE IMPROVE
This week's fishing report shows some improvement for crappie anglers while good bass action continues. Bluegill are beginning to go on bed too as their spawning time arrives.
Catfish are heading toward shoreline areas as waters warm and those rocky banks attract spawning fish.
Lake levels have remained a few inches above normal this week. TVA indicates elevation will be relatively stable going in to the weekend based on its three day forecast.
Presently, elevation at Kentucky Dam is 359.4. Upstream at New Johnsonville lake levels were in the 359.1 range. Normal summer pool level is 359 so the reservoir has been above normal for over a week.
Water color remains clear throughout the reservoir. Some stain is present along shorelines where wind has whipped up sediments but overall the lake is clear.
Surface temperatures have warmed the last few days. Present readings are in the 65 to 69 degree range and could rise a few degrees by early next week if warm days continue.
Crappie showed signs of improvement at midweek as fish returned to structure in the 11 to 14 foot range. Last week fish were quite scattered for a few days as rising lake levels teamed up with post-spawn moods and made it tough on crappie anglers searching for finicky fish.
Once lake levels stabilized crappie seemed to settle down as good catches were reported at midweek where fish were taking chartreuse jigs tipped with minnows. Stakebeds and brushpiles were producing fish the last few days in midrange depths where just a few days before bites were hard to come by.
Some fish were moving up toward shallow buck bushes and dead grassbeds in the upper Big Sandy River area this week as cloudy days helped the shallow zones. Most of the success from shallow shoreline structure came in the early morning and late afternoon lowlight conditions as clear water continues to be a factor.
West Sandy, the upper portion of Big Sandy's mud flats, and some pockets around the Elkhorn area were giving up shallow crappie from shoreline structure at midweek.
Several anglers were still finding crappie suspended across the Big Sandy area where pulling and trolling road runners, curly tails grubs, and hollow body tube jigs were accounting for some decent stringers from 9 to 14 foot zones around the TVA power lines and south toward Country Junction.
The weeks ahead should see crappie action hold up well as the fish get back to cover and over their post-spawn finicky biting phase.
Bluegill are beginning concentrate in shallow bedding areas as surface temps signal spawning time for the powerful panfish. Some good catches were taken this week by anglers using crickets in 3 to 5 foot zones.
A few shellcracker were also showing up as anglers fished scattered buck bushes and dead grass areas.
Bass action has been good as anglers toss a variety of lures toward the abundance of shallow shoreline habitat. Buck bushes and grassbeds have been producing as those ever popular yellow flowers harbor bass.
Floating worms, spinnerbaits, buzzbaits, chatter baits, Texas rigged lizards and worms and assorted jerk baits have been producing well. Some larger fish have been taken on shallow running crankbaits and black and blue jigs pitched around bushes and trees.
Overall bass fishing has held up well for a variety of patterns and it should be another good week ahead as some fish go to spawning beds.
Catfish are heading toward the big rock bluffs and roadbeds. Watch for an improvement next week for shoreline areas.
Although windy days have interfered this week, fishing has improved compared to last week as lake levels settled down and fish show more signs of cooperation.
For The Lake Barkley Report
Click Here
Also check out our past:
Kentucky Lake Fishing Reports
Steve McCadams
Steve McCadams is one of the nation's best known Crappie Fishermen and a full time resident of Paris, Tennessee. Steve is also a professional hunting and fishing guide here in the Paris Landing area.