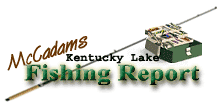 Brought to you by: Fishtale Lodge
Steve McCadams'
Kentucky Lake Fishing Report for:
April 27th, 2004
Fishing has improved since last week here on Kentucky Lake, thanks to some help from the weatherman. Bass and crappie action is better. And, the bluegill and redear (shellcracker) are on the threshold of bedding as are the catfish, which are already prowling the rock banks for spawning spots.
After a weekend of changing lake levels that saw the reservoir jump almost two feet in the aftermath of heavy rains, things are returning to normal.
Observed lake elevation at Kentucky Dam will was 359.7 today (Tuesday) and falling slowly. Upstream at New Johnsonville readings were in the 359.2 range. The reservoir is slowing return to the summer pool mark of 359 and should be there by the end of the week.
Surface temperatures throughout the lake are in the 64 to 67 degree range and will likely warm a degree or two later this week.
Watercolor is still quite clear in much of the Big Sandy and Paris Landing area. There is some dingy water in the upper end of Big Sandy around Country Junction and the gravel pits. A few pockets along the main Tennessee River also have some stain such as Lick Creek and others between Danville and Paris Landing.
Crappie have improved the last few days in the Paris Landing area as the fish return to a more structure-oriented pattern. Several good stringers have been taken in the 8 to 13 foot zone where anglers are vertical fishing tube jigs around brushpiles and stakebeds.
Techniques such as trolling and drifting are also producing this week as anglers offer a buffet of baits such as Road Runner style horse-head jigs sporting spinners, tubes tipped with minnows, and twister tails.
Popular colors are pearl, motor oil and glitter, chartreuse with red metal flake, and hair jigs with light green leadheads. Many anglers are still tipping jigs with both minnows and Berkley Power Nibbles to enhance bites.
Many of the crappie taken on shallow cover are males, distinguished by their darker appearance. Most of the fish are in the post-spawn phase and taking baits with a very light strike.
There appear to be a few fish that had not spawned last week but those numbers were in the minority as most are sporting a relatively thin appearance indicating eggs have already been broadcast along stumps and brush.
Bass fishing has been good as the rising lake levels really inundated the shoreline structure last weekend, giving anglers ample cover to toss lizards, jig and pig combos, spinnerbaits, worms, and topwater lures.
Many bass are attempting to go on bed, seeking those shoreline pockets where grass and bushes are mixed and out of the wind. The abundance of visible structure such as yellow flowers (water willow), buck bushes, willows, and other dead grass is a heaven for the largemouth right now.
Some fish have been taken on surface plugs such as floating Rapalas, Devilís Horse, and Bango lures. And, buzz baits have worked too, especially on cloudy days.
The bright days appear to work in favor of anglers flipping and pitching jigs to structure where fish are holding tight to bushes and trees.
Anglers are casting lizards and worms in the red shad, blue and black with metal flake, green pumpkin-pepper, and black with red glitter.
The falling lake levels should pull the bass back to the outside shoreline structure this week giving anglers an even better pattern.
Bluegill and shellcracker should begin bedding phases this week. In fact, several shell cracker have already been taken in the shallow pockets off the main lake and the bluegill are showing signs too.
Watch for action in that department to break loose so keep the light tackle and cricket boxes handy, along with a few mealworms and grubs for the shellcracker.
Catfish are moving toward shallow rock banks in search of holes and crevices to spawn. Watch for oleí whiskers to go on the prowl in the next two weeks as rip-rap levees and rock bluffs attract the fish and improve the odds of success for bank fishermen.
After a week of unstable weather and rising lake levels, Kentucky Lake is returning to normal and fishing is improving.
For The Lake Barkley Report
Click Here
Also check out our past:
Kentucky Lake Fishing Reports
Steve McCadams
Steve McCadams is one of the nation's best known Crappie Fishermen and a full time resident of Paris, Tennessee. Steve is also a professional hunting and fishing guide here in the Paris Landing area.