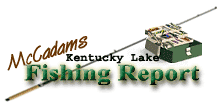 Brought to you by: Fishtale Lodge
Steve McCadams'
Kentucky Lake Fishing Report for:
April 25th, 2008
LAKE LEVELS/WEATHER BACK TO NORMAL...FISH ON THE MOVE

A stubborn spring finally released its grip and this week Kentucky Lake anglers have seen a dose of summer enter the picture. A few days it was downright hot with no wind but no one is complaining as a week ago it was cold and windy.
Fish have really been on the move. And, it's amazing what a different one week can make as bluegill and shellcracker are already beginning to go on bed. Bass are fanning too with several females seen this week in shallow weed beds where they are already setting up housekeeping.
Catfish continue to move toward rocky banks as their spawning time draws near. Some hefty stringers are being caught already by bank fishermen in such places as Danville railroad levee and the east side of the Ned McWherter bridge here at Paris Landing.
How about the status of crappie here at the "Crappie Capital"?
In a spring that has been most unusual due to crazy weather and high water, the most consistent zone for hefty stringers has been the upper end of the Big Sandy River. From New Hope on the east side to Country Junction on the west and the upper basin near the gravel pits and up toward the headwaters at the Big Sandy culvert have come some tall tales from successful anglers.
It appears the bulk of the crappie population in this region headed upstream during the extended spell of high water that started way back in February.
Water levels stayed high and coincided with the annual spring migration of crappie that have long favored the Big Sandy and West Sandy areas that are known to be shallow and warm quicker than other portions of Kentucky Lake.
Yet in times past there were always good numbers of fish taken elsewhere in the region even when the upper Big Sandy appealed to early spawning crappie that ventured there in late March and early April. This year has been a different story.
For the last few weeks the lion's share of crappie have been taken in the upper Big Sandy region. Even when anglers there were having heydays by a variety of methods that ranged from slow trolling, drifting, pulling long lines, and vertical presentations over manmade fish attractors other parts of the lake were singing the blues.
The number of boats have pretty much told the story. Around the Paris Landing area at the mouth of Big Sandy and even up around the TVA power lines near Mansard Island where crappie normally congregate the lack of boats has reflected the fishing scenario.
Personally, in my 35 years here on Kentucky Lake as a professional guide I've never seen the crappie react so strongly to the high water and move toward the headwaters and stay there as long as they have this year.
Granted we've had high water in times past but this year high water came in late winter and stayed around a lot longer. The crappie made a blitz up Big Sandy and have been slow to return back toward the confluence of the Tennessee and Big Sandy River sector.
For that reason it has been pretty tough here while a few miles up the lake many anglers have experienced some of their best fishing ever. What a difference a few miles can make!
With lake levels returning to normal and surface temperatures heating up watch for more fish to back out of the upper Big Sandy and head north. However, a lot of them won't return as this year thousands of fish were caught and placed in the coolers of lucky anglers who took advantage of the great surge of '08.
Meanwhile, a lot of crappie are already in post spawn phase and somewhat scattered but staying in shallow to midrange depths between shallow shorelines and secondary flats around 10 feet.
Casting jigs has been productive this week as have trolling and drifting techniques while vertical presentations over manmade structure slowed, even when using live minnows.
Presently, surface temperatures are in the 67 to 71 degree range.
Lake levels fell slowly this week and went several inches below summer pool. A slight rise is now underway as TVA brings it back toward summer pool. Under TVA's curve the reservoir is supposed to be 359 by May 1.
Presently, lake levels at New Johnsonville are in the 358.2 range. Downstream at Kentucky Dam the elevation is 358.6.
Bluegill are heading toward shallow gravel banks and congregating around the outsides of weedbeds and buck bushes. Shellcracker are hitting some on the outside of grassbeds too and entering shallow bushes and aquatic weed beds.
Watch for action to continue to improve this next week as warm weather has really stimulated spawning activity for these rusty rascals.
Bass are hitting good on lizards, worms, spinnerbaits and jig and pig combos around shallow cover. And, on days when a little cloud cover is present the top water bite has been good on floating worms, buzzbaits, and jerk baits.
Some fish were still relating to gravel points where anglers were tossing Carolina rigs and crankbaits.
This week's summer weather pattern has really heated up surface temps and bass, bluegill, shellcracker, and catfish are responding as their biological clock is ticking.
For The Lake Barkley Report
Click Here
Also check out our past:
Kentucky Lake Fishing Reports
Steve McCadams
Steve McCadams is one of the nation's best known Crappie Fishermen and a full time resident of Paris, Tennessee. Steve is also a professional hunting and fishing guide here in the Paris Landing area.