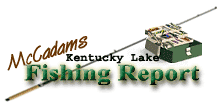 Brought to you by: Fishtale Lodge
Steve McCadams'
Kentucky Lake Fishing Report for:
April 24th, 2003
Fishing this week on Kentucky Lake has improved for bass anglers and crappie action has been a bit better than last week. Bluegill and redear (shellcracker) are about to go on the bed too.
Cool winds have kept a big of dogwood winter lingering in the picture so overcoats and raingear have been popular attire.
Kentucky Lake has been rising slowly and TVA predicts lake levels will be somewhat above summer pool this weekend and into next week.
Lake stages at New Johnsonville are expected to be 359.3 this weekend. Kentucky Dam is expected to have an elevation of 359.5. Normal summer pool elevation is 359 so the lake in several inches above normal.
Watercolor remains clear in the main Tennessee River and through most of the main lake portion of the Big Sandy embayment. Some dingy water is present in the upper portion of Big Sandy around the gravel pits and a few backwater bays where wind and runoff had created some stain.
Surface temperatures fluctuated this week as some cool nights and north winds had an influence. Early morning surface temperatures were in the 62-degree range but warming to 66 by midafternoon.
Crappie anglers are finding the fish in a variety of patterns as the fish continue to move about the reservoir. While action has slowed some in the West Sandy and upper Big Sandy embayment where many anglers were catching suspended fish last week, deep-water ledges were giving up some good fish this week in the Paris Landing area.
Depths of 21 to 28 feet were producing some good size slab crappie. The depth range is somewhat surprising as rising lake levels generally send fish toward shallow areas or scatter them in a suspended pattern.
However, post-spawn crappie sometimes have strange moods and a few of the guides found some deep fish this week out on the main lake drops as they tight lined jigs and minnows around deep structure.
Guide Any Hicks boated some nice fish last weekend and throughout the week while working ledges in the Big Sandy. I joined him in the deep water on Monday and found some hefty crappie relating to the deep side of the drop-off, although fish were somewhat scattered.
Jigs in the orange and chartreuse combo were working well and seemed to produce even better when tipped with a minnow.
There are still some fish on main lake flats in the 8 to 12 foot zones as stakebeds and brushpiles are giving up a few fish there and there. The clear water is demanding that anglers use light monofilament in the 4 to 8-pound test range.
Some anglers are still casting curly tail jigs around submerged structure while drifting and slow trolling is also accounting for some decent stringers.
A few large female white crappie were still holding eggs but the majority appear to have spawned. Sometimes crappie will reabsorb their eggs when cold fronts and weather changes interrupt their spawning routine.
Male crappie are still sporting their pretty dark colors but appear to have backed off the banks and shallow water in much of the Paris Landing area. Practically all the big fish I caught in deep water were females.
Look for crappie action to remain fair this week as a variety of patterns continue to produce. The various depths and techniques are typical of post-spawn crappie.
Bass action has improved in shallow shoreline habitat as the rising lake levels continue to open up new territory for the fish and fishermen. Grassbeds and some buck bushes were holding bass this week as a lot of fish began fanning spawning areas.
A lot of buck bass were hitting spinnerbaits, lizards, worms, and surface lures tossed their way. Floating worms were working too as anglers worked them slowly through the aquatic vegetation.
Larger bass seemed a little harder to come by for many anglers, a sure sign that some of the big females are on the bed.
Look for an increase in topwater action this week on the cloudy days. The male bass are quite aggressive right now and shallow grassbeds where those yellow flowers can be found is a recipe for success.
Some anglers are still tossing crankbaits and Carolina rigged lizards around points in hope of finding a few larger fish or tricking a smallmouth into hitting.
Pitching a jig and pork combo is also working around logs and various treelaps.
Bluegill and redear sunfish are about to go on the bed. Watch for significant improvement from these feisty fellow this next week as waters warm and the fish head to shallow pockets where a sandy, gravel bottom is present.
Several redear have already been taken around shallow buck bushes and grassbeds in the backs of large bays.
Crickets and red worms are the baits of choice but donít forget to give those wax worms and try too.
For The Lake Barkley Report
Click Here
For Other Kentucky Lake Fishing Reports
Click Here
Steve McCadams
is a professional hunting and fishing guide here in the Paris Landing area and host of The Outdoor Channel's television series IN-PURSUIT.