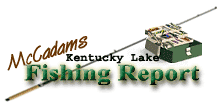 Brought to you by: Fishtale Lodge
Steve McCadams'
Kentucky Lake Fishing Report for:
April 23rd, 2004
WEATHER WORN ANGLERS CHALLENGE ELEMENTS
Fishermen along Kentucky Lake would like to battle the bass, crappie, catfish, and bluegill. However, most have been battling the wind and weather.
Gale winds, mixed with some heavy rain, have given anglers yet another hurdle during a spring that has been unkind. Several days this week winds have been in the 15 to 20 mile per hour range and that puts whitecaps all over the lake and eliminates a lot of fishing territory.
Bass fishing has held up pretty good while crappie fishing has been somewhat below average for most of the reservoir. Catch rates per hour have been down compared to years past.
This past week many visitors to the area were heading home early, disappointed by the lack of fish and abundance of wind and rain.
The persistent cold fronts have tampered with crappie spawning phases. There has not been a major movement by the fish toward spawning structure, as many have remained suspended at various depths throughout Big Sandy and West Sandy.
Yet there are always a few people who find fish. In fact, a few trollers and drift-style crappie fishermen continue to find fish playing their game. Thatís because these type anglers cover a lot of water and find a scattered fish now and then.
There have been some nice crappie taken behind the levee in West Sandy this week. Many fishermen have attempted to dodge the wind by working the visible cover behind Springville pumphouse as there is a lot of water still in the wildlife management area.
TVA is presently pumping water out of the bottom in an attempt to dewater the area for waterfowl management and planting but heavy rains have seen a lot of runoff.
Bank fishermen might find fish at the discharge area there at the pumphouse too. Normally, a lot of shad are present there when pumps are running so crappie and catfish anglers take note!
And, thereís even been some night fishing taking place by crappie anglers, a technique or style growing in popularity here due to the clear lake conditions. Clear water makes fish go deeper during the day and take on a finicky behavior pattern. They are light sensitive so thatís a factor in their whereabouts.
Meanwhile, Kentucky Lake levels continue to rise and have been somewhat ahead of the TVA curve this week for reservoir filling. Thereís been a lot of rain this week throughout the TVA valley so look for lake levels to continue to rise.
Lake levels going into the weekend will be in the 358.8 range at Kentucky Dam, which is only a few inches shy of the summer pool mark of 359. The lake isnít supposed to reach summer pool elevation until May 1 according to TVAís curve but heavy rains may see that change.
Upstream at New Johnsonville Steam Plant the elevation is expected to be in the 358.2 range this weekend but will continue to rise.
Surface temperatures are in the 63 to 65 degree range. Watercolor remains clear throughout most of the reservoir.
Crappie have been taken this week in the 8 to 12 foot zones by anglers vertical fishing jigs over manmade fish attractors. Yet fish there have been scattered. It appears there are a few late spawners around the structure but the bulk of the fish have already spawned and scattered.
Some success stories continue from the power lines and upper Big Sandy as anglers troll spider rigs or drift over main lake flats where fish are suspended in 8 to 12 foot depths over 15 feet of water.
Baits such as Road Runner jigs, tube and twister tail grubs, and live minnows are producing. Popular colors have been pearl, chartreuse with glitter, and some clear with sparkle.
A few dark male crappie are still lingering in the shallow submerged structure and taking live minnows and jigs. Yet the fish have been finicky in their bite, taking baits reluctantly with light strikes.
Look for crappie to remain scattered throughout next week as the post-spawn phases take their toll on the fish. By early to mid May fish will likely improve and return to a more structure-oriented pattern.
Bass fishing is holding up well and the rising lake levels have inundated shoreline habitat such as dead grass beds, logs, stakebeds, and other visible structure. Some fish are still relating to gravel banks, points, and roadbeds or rip rap levees.
Look for bass action to improve this week around buck bushes and other shoreline cover where fresh water will offer spawning bass new habitat.
A variety of lures are producing bass right now. Popular choices are floating worms and jerk baits such as the topwater chuggers like Stormís Chugg-Bug, Bagleyís Bango lure, and Rebelís Pop-R, just to name a few.
Some fish are taking spinnerbaits in the chartreuse and blue-skirted versions. And, Texas rigged worms and lizards in the red shad, green pumpkin-pepper, and cotton candy are working too.
Carolina rigged worms and lizards are begging to appeal too as anglers work sloping points where bass are staging in preparation for short trips toward pockets for spawning.
Anglers are still tossing crankbaits in the crawfish and Tennessee Shad colors around rock points and gravel banks.
A few hefty smallmouth continue to show up in the creel of tournament anglers who are working finesse baits along the steep banks of bays on the east side of the lake. Water is very clear there with a lot of rock, a combo that appeals most to the bronzebacks.
Watch for bass action to improve even more next week as topwater presentations, along with pitching jigs, lizards, and worms around visible buck bushes and willow trees becomes the pattern.
Bluegill and shellcracker have entered the picture this week. Action is improving in this department as many bank fishermen are finding success by fishing crickets and worms in shallow grass and bays.
The shellcracker, biologically listed as the red ear sunfish, usually goes on bed before the bluegill and that appears to be happening now. The clear water may have moved the timetable up somewhat too.
Now is the time to dust off the light tackle and give the aggressive panfish a try. The weeks ahead will be prime time for both bluegill and shellcracker so stop by your local bait and tackle shop and stock up on wax worms, redworms, and crickets.
Some sauger are showing up on gravel points already. And, catfish will soon begin their annual migration toward rocky banks in search of spawning territory.
Watch for catfish action to turn on in the next two weeks around shoreline rock and bluffs.
While crappie are on the backside of their unusual spawning phases this spring, other species are doing well.
For The Lake Barkley Report
Click Here
Also check out our past:
Kentucky Lake Fishing Reports
Steve McCadams
Steve McCadams is one of the nation's best known Crappie Fishermen and a full time resident of Paris, Tennessee. Steve is also a professional hunting and fishing guide here in the Paris Landing area.