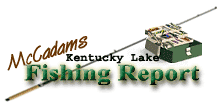 Brought to you by: Fishtale Lodge
Steve McCadams'
Kentucky Lake Fishing Report for:
April 21st, 2005
CRAPPIE ENTER POST SPAWN PHASE AS BASS
GO ON BED
This weekís fishing report has crappie on the backside of the spawn while bass are now going on the bed.
Anglers have enjoyed a stretch of pretty weather this past week where sunny skies and light winds dominated the picture. Somewhat cooler conditions are expected for the weekend, however, with rain and wind in the forecast.
The bulk of crappie are now in a post spawn phase and scattered for most anglers. Most of the fish are coming from the 10 to 14 foot zones throughout Big Sandy, although some fish have been taken in 8 to 10 foot stakebeds, brushpiles, and stumps.
Many fish have been suspended in the main lake and not relating tight to structure the way they were the previous two weeks. Thatís a normal occurrence as the fish are somewhat stressed after the annual ritual and often meander in midrange depths where structure is not to their liking.
Several fish were still being taken this week throughout the Big Sandy embayment and especially around the power lines, Sulphur Well Island, Country Junction, and West Sandy.
The most productive techniques were drifting and slow trolling as anglers were covering a lot of water with different lure and live bait presentations. Some were using long line presentations while others were spider rigging and slowly moving over deep water but finding the fish suspended.
I found several fish still relating to stakebeds a few mornings this week, especially when cloud cover helped filter the bright sun. When a little wind was present the fish hit pretty good but on the calm days the bite was slow and fish displayed a very finicky mood.
Watercolor is clear throughout Big Sandy but a little stain is present over on the Tennessee River. The clear water has been a factor in the spawning this spring too as most of the fish have dropped their eggs in the 7 to 13 foot range and far from shoreline habitat.
Clear waters allow sunlight to penetrate to deeper structure and when surface temperatures are warm enough crappie everything they need in deeper water, which seems to have been the case this spring.
Last week over half the fish I caught had already spawned and by this week the lionís share were clearly showing that peak spawning phases had passed. While many male crappie are still displaying a dark appearance, most of the females are sporting a thin profile having already deposited their bulky eggs sacs that were present the previous two weeks.
Itís not unusual to see a few fish spawn early and a few fish late. Mother Nature has a way of spreading out the ritual but the peak phases will occur during the 62 to 66 degree range and that appeared to happen during the first two weeks of April this year.
Crappie anglers can expect fish to remain scattered this next week but likely move back to a more structure oriented mode in a week or two where catch rates will likely improve.
Presently, surface temperatures are in the 68 to 71 degree range throughout most of the reservoir. Watercolor is quite clear in Big Sandy and West Sandy with some stain in the main Tennessee River while bays there are clear.
TVA indicates the reservoir is rising slowly and on schedule as to its curve for reservoir filling. At midweek the elevation at New Johnsonville was 357.5 with a projection of 357.7 going into the weekend. Kentucky Dam will be slightly higher with a reading of 358.
Bass action has been fair this week but it appears a lot of the bigger fish are going on the bed and avoiding lures.
Several good bass anglers reported seeing fish up shallow this week along shoreline weedbeds but were unable to get them to hit anything. Although lake levels are not summer pool just yet, some shallow grass is holding water, especially in the backs of pockets and small bays off the main lake.
Some smaller buck bass were hitting lizards, spinnerbaits, floating worms, and jerk baits.
It appears the big sows are reluctant to strike a bait right now but a cloudy day with some rain and wind could see some of the larger fish turn on. With a full moon approaching this weekend watch for spawning to take place by some of the big bass in very shallow pockets where grass, weeds, and bushes are present.
Some anglers are tossing Carolina rigged lizards along gravel points and roadbeds and finding a few fish staging there while others are tossing crankbaits along deeper banks and roadbeds.
Action should also improve on topwater this next week.
Bluegill are beginning to hit as waters warm. Although not yet on the bed, several fish are moving into shallow shoreline areas and congregating around piers, boat houses, docks, and sandy flats.
Some redear (shellcracker) have been taken this week in shallow zones too so watch for that to really improve this next week.
Kentucky Lake is still about a week away from reaching the summer pool mark but expect lake levels to rise slowly this next week.
For The Lake Barkley Report
Click Here
Also check out our past:
Kentucky Lake Fishing Reports
Steve McCadams
Steve McCadams is one of the nation's best known Crappie Fishermen and a full time resident of Paris, Tennessee. Steve is also a professional hunting and fishing guide here in the Paris Landing area.