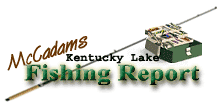 Brought to you by: Fishtale Lodge
Steve McCadams'
Kentucky Lake Fishing Report for:
April 2nd, 2006
CRAPPIE ACTION GOOD...SPAWNING LIKELY TO BEGIN AT MIDWEEK...(BASS CONTINUE TO MOVE UP TO SHORELINE AND SHALLOW STRUCTURE)
Crappie action is good here on Kentucky Lake and fish are making a blitz toward shallow spawning areas the last few days. Spawning phases will likely begin by Wednesday or Thursday this week.
Surface temperatures climbed into the 60 to 62 degree range this weekend, thanks to a beautiful sunny day on Saturday that was almost perfect fishing weather. Light winds and warm sunshine really stimulated the bite and fish were aggressive.
The last several days has seen increased activity in the 4 to 9 foot zones here in the Paris Landing area. Throughout the mouth of Big Sandy fish have really moved up to shallow structure in preparation for spawning.
Male crappie are turning darker each day as hormonal changes clearly show spawning time is here.
Up Big Sandy and throughout West Sandy anglers were also seeing increased numbers of fish enter shallow zones that had very few fish just a week ago. Still, a few fish remain on main lake ledges as not all the fish spawn at the same time. Some anglers were finding fish on drop-offs in depths of 16 to 20 feet, although fish were much more scattered there than last week at this time.
It appears many fish have left the deep venues and moved up fast in staging patterns near spawning territory. Normally, crappie kind of stair-step their way from deep ledges to shallow areas by first entering main lake flats in 10 to 15 foot ranges before jumping up to very shallow spots. However, a lot of fish have skipped the so called "in-between" zone this week and bypassed midrange depths in favor of structure in 4 to 9 foot areas.
That mass movement can likely be attributed to the dramatic warm-up the last few days. Crappie will begin spawning once the water reaches the 62 to 66 degree range and it appears that threshold will be crossed at midweek.
Look for active spawning to take place the next week to ten days. While some fish will spawn later in the month, the bulk of the population will make the charge later this week and early next week here in the Tennessee portion of Kentucky Lake.
Present (Sunday) lake levels are showing 355.5 at New Johnsonville with a projection of 355.7 by Tuesday, indication a slow rise that should be good for fishing. Downstream at Kentucky Dam elevation is slightly higher with readings of 355.7 and projections of 355.9 by Tuesday.
I had some hefty catches the last several days while fishing jigs around stakebeds and brushpiles in 5 to 9 foot depths. Popular colors were black leadheads armed with yellow/chartreuse, orange/chartreuse, and some pink/pearl colored bodies. And, tipping the jig with a minnow also worked quite well although at times fish were aggressive and it didn't seem to make any difference as to the addition of live bait.
Some unpainted leadheads and assorted colors of green and fluorescent red seemed to produce too but watercolor was clearing here in the Paris Landing area while some stained water remained up Big Sandy.
Other techniques producing fish are casting twister tail grubs, tube jigs, and Charlie Brewer Crappie Sliders around structure as clearing waters may require anglers to lay back some distance to keep from spooking shallow fish.
Slow trolling spider rigged poles and pulling long line jig presentations is also accounting for some fish that are on the move in large bays such as Swamp Creek, West Sandy, Sulphur Well Island and near the power lines at Mansard Island sector.
Bass continue to relate to gravel and rock points. Crankbaits have been the bait of choice this week as colors such as Tennessee Shad, orange and red with black backs, crawfish, and some chartreuse/black combos have worked well.
Deep diving Bandit, Bagley, and Bill Norman crankbaits have been the ticket as have Bill Lewis Rattle Traps.
Watch for increased action for slow rolling spinnerbaits around wood and shallow running crankbaits and jerk baits. Warming waters this week will see some topwater action begin too.
Most of the dead grass and shoreline habitat is another week or ten days away from having enough water to hold bass but fish are staging just out from those area and often hanging around mud flats and sandbars just waiting to move up.
The females are sporting big bellies and quite healthy as it appears there is a good forage base supporting both the crappie and bass populations.
Average temperatures are in the forecast so fishing is good and getting better each day as the fish and fishermen get closer together in shallow areas, which is what makes spring such a popular time!
For The Lake Barkley Report
Click Here
Also check out our past:
Kentucky Lake Fishing Reports
Steve McCadams
Steve McCadams is one of the nation's best known Crappie Fishermen and a full time resident of Paris, Tennessee. Steve is also a professional hunting and fishing guide here in the Paris Landing area.