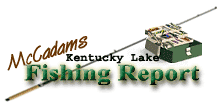 Brought to you by: Fishtale Lodge
Steve McCadams'
Kentucky Lake Fishing Report for:
April 2nd, 2004
CRAPPIE SPAWN CLOSE AT HAND…LAKE LEVELS RISING SLOWLY
Fishermen are anxiously awaiting the start of spawning phases for crappie here on Kentucky Lake. They may not have to wait much longer.
Crappie will likely begin spawning next week as several signs indicate the annual ritual is close at hand. Since last week the male crappie have begun to turn dark. That occurs when hormonal changes take place and increase the pigment, giving the handsome purple appearance to the roosters who swim with an attitude.
In addition to the male crappie turning dark and heading toward shallow rock banks and structure, the surface temperatures have climbed into the 59 to 62 degree range this week.
The females have really developed hefty egg sacs this week and appear to be on the threshold of a migration to structure.
Look for longer days and sunshine to bring surface temperatures up into the 62 to 66 degree range next week. A few warm days and mild nights will see spawning phases begin.
This past week has seen yet another series of weather changes that always seems to disturb both the fish and the anglers who pursue them. Last weekend's warm weather saw surface temperatures climb quickly into the 61 to 63 degree range by Sunday afternoon only to drop back three or four degrees early in the week due to a bone-chilling cold front.
By midweek anglers were wrapped up in winter clothes and braving brisk northwest winds that really had a bite. The water had cooled back to 58 degrees by Wednesday in the Paris Landing area, which appeared to push some crappie back off the banks and into deeper water.
A few good fish had entered shallow stakebeds and brushpiles early this week. Depths of 6 to 10 feet were producing as fish began to stair-step their way into large bays and flats in search of spawning habitat.
While many fish backed off by midweek due to the cold front and occupied deep ledges in the 16 to 20 foot depths, a few fish have remained in the midrange zone and just waiting for the return of sunshine and warmer water.
I found some big crappie moving up to midrange stakebeds and brush last weekend and early this week. However, I moved back to deep ledges at midweek due to the cold fronts and found some of the bigger fish had pulled back to the deep sides of ledges relating to structure in the 16 to 20 foot zone.
The fish were taking shiner minnows and florescent red or green colored leadhead jigs sporting chartreuse skirts. Tipping the jigs with minnows seemed to entice strikes.
Odds are fish will really make a move toward shallow areas in the next week to ten days as conditions become favorable for spawning.
Water levels began rising slowly on Thursday as TVA began its annual reservoir-filling schedule. Each year, TVA's reservoir filling curve for Kentucky Lake begins on April 1. Lake elevation is scheduled to rise some five feet by May 1, which then offers a reading of 359, the official summer pool level.
Presently, the observed elevation in the Paris Landing area is 355.1. That will change slightly over the weekend and into next week and further increase the movement of crappie to shallow areas.
Watercolor has cleared since last week as many bays and main lake areas have lost the stain. Rains or high winds this week could see a return of dingy water to some areas of Big Sandy.
Watch for a quick change in fish movement next week in the West Sandy and upper Big Sandy basin. Action has been fair in those areas for a few anglers who have been slow trolling jigs and minnows on multipole rigs.
In the Paris Landing area several guides are taking good stringers this week, despite braving high winds and cold fronts. Success has come from deep ledges in 16 to 20 feet while tightlining minnows and jigs. And, stakebeds and brushpiles in the 6 to 11 foot zones have paid off too.
Jigs tipped with minnows and Berkley Power Bait has worked well. Popular colors have been blue and white combos, along with chartreuse and red glitter, blue and chartreuse combos.
Bass action is still good around rock points and gravel banks. Crankbaits continue to produce, as have jig and pig combos and suspending jerk baits. Some anglers are also working spinnerbaits around shallow wood structure with success.
A few fish were taking topwater lures last week when surface temperatures warmed but seemed to back off once the cold fronts arrived and chilled the water.
Look for action to improve next week as the bass respond to the warming trend and return to a more aggressive feeding mode.
For The Lake Barkley Report
Click Here
Also check out our past:
Kentucky Lake Fishing Reports
Steve McCadams
Steve McCadams is one of the nation's best known Crappie Fishermen and a full time resident of Paris, Tennessee. Steve is also a professional hunting and fishing guide here in the Paris Landing area.