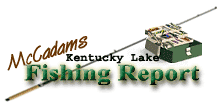 Brought to you by: Fishtale Lodge
Steve McCadams'
Kentucky Lake Fishing Report for:
April 20th, 2007
KENTUCKY LAKE LEVELS AHEAD OF SCHEDULEÖELEVATION RISING FAST
Kentucky Lake will reach summer pool elevation by this weekend according to TVA forecasts and thatís some ten days ahead of schedule.
Anglers have been dodging floating debris this week as rising lake levels had grass, sticks, logs and other such potential boating hazards scattered across the surface. Boaters have had to keep an eye out to avoid obstacles as the aftermath of last week heavy rains apparently delivered a lot of runoff to the river system.
Projections going in to the weekend will see the reservoir climbing to 359.4 at Kentucky Dam. Upstream at New Johnsonville lake stages will be in the 359.1 range.
Surface temperatures have been recovering slowly from the extended cool spell and this past week bottomed out at 55 degrees but finally made it up to 61 at midweek. Watch for the warming trend to continue throughout the weekend as shallow areas will likely make it back to the mid to upper 60ís soon.
Water color remains quite clear throughout the reservoir as rising lake levels have pushed what little stain was present back into upper ends of bays.
Bass fishermen will have their eye on shallow shorelines this weekend as grassbeds and outside buck bushes will now have sufficient water to harbor fish.
Action should really improve for anglers who love to toss spinnerbaits, buzzbaits, floating worms, Texas rigged worms and lizards, or pitch and flip jig and pig combos around visible structure.
According to TVAís curve for reservoir filling, summer pool elevation isnít supposed to happen this early but itís likely the bass will move up fast and take up residence in shoreline cover. Watch for some bedding attempts to get underway next week as the fish respond to warmer weather, rising surface temps, and higher lake levels.
However, it will be interesting to see what TVA does with lake levels early next week. Since the reservoir is higher than normal for this period of April falling lake levels could enter the picture.
Meanwhile, the gravel bank and rock point patterns may continue to produce some bass where anglers have had success casting rattletraps and assorted crankbaits, along with some Carolina rigged worms and lizards in deeper water, watch for a surge in activity to occur in shallow venues and shoreline habitat.
Crappie fishermen have seen a variety of fishing conditions greeting them lately ranging from high winds to rising lake levels. There have been some cool rainy days mixed in with a rare calm day or two.
Overall the patterns on crappie have been somewhat scattered this week as the fish and fishermen attempt to adjust to changing conditions. In the Paris Landing area a lot of fish were taken on deep ledges in the 18 to 24 foot depth range where anglers were using double hook bottom bumping rigs.
A few days fish really hit well in deeper depths but rising lake levels appear to have influenced the deeper fish to scattered and roam. Some fish were taken by anglers drifting and dragging jigs over main lake areas, especially around the power lines in Big Sandy near Mansard Island Resort.
Spider rigged presentations were also working as the scattered and suspended fish seemed to back off somewhat as to their structure oriented mood that was present earlier in the week. Anglers covering a lot of water seem to be picking up the scattered fish at various depths as the fish are really moving about in response to the rapidly rising lake levels.
Some late spawning crappie were still being taken around submerged stakebeds and brushpiles earlier this week but it was a few-here-and-there scenario. Popular depths were 11 to 14 feet as the deeper cover seem to produce better than shallow structure.
Vertical jig presentations were working as the fish were finicky and seemed to watch the bait placed right in front of them. Tipping jigs with minnows also seemed to entice bites.
It appears a lot of crappie are in the post-spawn phase too. Often times the fish will display a very sluggish mood and are reluctant to strike a bait for a few days when post-spawn phases occur but the changing lake levels have likely added even more challenge to crappie anglers here for a few days.
Clear water color has required some anglers to back off and resume casting curly tail grubs and assorted colors of tube jigs over manmade fish attractors. Some days when winds are calm and fish are skittish the casting techniques are more productive as the slow moving baits entice strikes.
Popular jig colors have been pearl and chartreuse, chartreuse with sparkle, some green pumpkin pepper, motor oil with glitter, and black and yellow combos. The dull colors in clear water have been appealing.
Itís going to be an interesting week ahead for anglers who attempt to pattern fish under changing lake levels yet it appears a warming trend is in the picture. Hopefully, anglers will see an end to the nuisance winds that have pestered the area for the last two weeks.
For The Lake Barkley Report
Click Here
Also check out our past:
Kentucky Lake Fishing Reports
Steve McCadams
Steve McCadams is one of the nation's best known Crappie Fishermen and a full time resident of Paris, Tennessee. Steve is also a professional hunting and fishing guide here in the Paris Landing area.