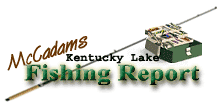 Brought to you by: Fishtale Lodge
Steve McCadams'
Kentucky Lake Fishing Report for:
April 18th, 2008
BASS BITE GOOD AS CRAPPIE SPAWN ARRIVES
Crappie are on the move and headed toward spawning territory. Bass are biting well and some hefty stringers are being caught in a variety of patterns. Also on the radar screen has been catfish action as anglers are already seeing their whiskered prey head toward the rocks.
The fishing scene has improved, thanks to the overdue arrival of warm and sunny weather. Lake levels have been falling too as TVA has really pulled the plug, dropping the elevation by some six feet since last week at this time.
It appears the biological clock for this yearís crappie spawn will be almost three weeks behind what it was last year. A most unusual spring has really thrown a curve to both the crappie and the anglers searching for them but hold the phone; things are about to get real good real quick.
While a few fish may have attempted spawning the last week to ten days, it appears the peak may occur in the next few days as the combination of warm weather and falling lake levels may return the scenario to near normal conditions.
Assuming no more floods enter the picture and cold fronts stay up north where they belong, crappie will do their thing soon.
Surface temperatures have been climbing the last few days and are now in the 61 to 64 degree range and likely to warm even more in the days ahead.
Water color is in good shape across most of the reservoir with more stain up Big Sandy and in West Sandy.
Lake levels have been falling steadily now for several days. Some days TVA dropped the lake as much as eight to ten inches, which is a lot of water for a lake this big.
Elevation is expected to be in the 359.5 range going into the weekend in the New Johnsonville area. Kentucky Dam will be around 359.9 this weekend. Lake levels will continue falling according to TVAís forecast but just how low the agency will go remains to be seen.
Both bass and crappie anglers have been concerned about the changing lake stages as fish head toward shoreline habitat to spawn. When drastically declining lake levels and warm weather coincide at a time when fish are on the verge of spawning the eggs can be vulnerable if deposited in shallow shoreline habitat.
For the last week or so it appears the bulk of the crappie population pulled back off the banks and road out the cold fronts and roller coaster changes of surface temperatures in deeper water.
Right now they are on the threshold of making a blitz toward shallow venues and broadcasting eggs around submerged structure.
Watch for significant movement in the next few days. Some fish may head toward shoreline bushes and trees if TVA holds the reservoir at summer pool, which is 359. If the agency goes below that elevation a lot of the fish will spawn in 6 to 10 foot depths where shallow stumps and the abundance of manmade fish attractors will appeal.
Crappie anglers were seeing changes the last few days in the New Hope and Country Junction sector where a lot of fish were staging in the shallow flats and suspending in preparation for the annual move. It appears the falling lake levels have pulled fish out of the upper end of Big Sandy where higher than normal elevation had given them a reason to go to the headwaters and stay there.
Techniques such as slow trolling jigs and crankbaits, pulling long lines of jigs, drifting, and spider rigging have been effective lately as it allowed anglers to cover a lot of water and reach suspended and roaming fish.
Anglers using vertical techniques over manmade fish attractors or casting jigs along shorelines fell prey to the unstable conditions earlier in the week but will likely see a quick turnaround.
Here in the Paris Landing sector crappie were scattered and reluctant to bite during the recent rash of cold weather and high winds. Yet itís that time of year when things happen quickly and it appears improvement is already underway after a day or two of sunshine.
From the bass department comes more good reports of successful anglers using a wide variety of lures. Iíve talked with several veteran bass anglers this week who say theyíve had one of their most productive seasons in years.
The high water has brought a lot of bass to the abundant shoreline habitat where theyíve stayed for several weeks. Falling lake levels are pulling a lot of fish to outside cover and making it easier for anglers to establish a pattern.
Pitching and flipping jigs, lizards, crawfish and Texas rigged worms have worked well lately. Spinnerbaits and some topwater jerk baits have been other popular choices.
The dingy water around much of the backwater bays and pockets have been great conditions for pitching and flipping but as waters clear watch for some floating worms and topwater buzz and jerk baits to have more appeal.
Bass appear to be on the verge of spawning too. Most of the females are sporting hefty egg sacs and those bulging bellies say spawning time is here.
Meanwhile, look for those grassbeds mixed with willows and buck bushes to be hot spots this week.
Fortunately for bass fishermen, the adverse conditions this spring have not hampered the bass bite. Even before the high water bass were hitting good on gravel banks and rock bluffs and the bite has held up since back in early March, although shifting to stickups along shorelines as of late.
Catfish are already heading toward rock bluffs with some nice stringers being taken by bank fishermen who know the time is here for them to head to the banks.
Itís time to put the crazy spring conditions in the review mirror and look ahead to better times that are knocking on the door of Kentucky Lake anglers.
For The Lake Barkley Report
Click Here
Also check out our past:
Kentucky Lake Fishing Reports
Steve McCadams
Steve McCadams is one of the nation's best known Crappie Fishermen and a full time resident of Paris, Tennessee. Steve is also a professional hunting and fishing guide here in the Paris Landing area.