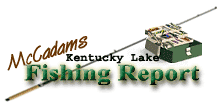 Brought to you by: Fishtale Lodge
Steve McCadams'
Kentucky Lake Fishing Report for:
April 18th, 2003
BASS AND BLUEGILL ACTION IMPROVES AS CRAPPIE ACTION SLOWS
Fishing and lake levels have changed on Kentucky Lake since last week. The reservoir has been rising all week and somewhat higher than normal by almost two feet for this period of April.
All across the lake this week debris was floating in the form of logs, trees, sticks, and all sorts of grass, which has been washed up from shorelines. Boaters have had to dodge chunks of wood and other items floating throughout the lake.
Crappie anglers saw a dramatic change from Friday to Saturday last weekend as the fish seemed to go from one extreme to the other. Most anglers were boating good numbers of fish all last week, even during the cold and windy weather only to have action slow down once the weekend arrived with warm, pretty weather.
It appears many of the crappie have spawned and scattered. The quick rise in lake stages seemed to deliver a tough blow to crappie anglers who were finding fish relating to structure in the 6 to 10 foot zones.
The last few days have been slow in the Paris Landing area for anglers vertical fishing jigs and minnows over stakebeds and brushpiles. Areas producing a few days ago are now almost void of fish as clear water and high pressure seemed to send the fish on a mood swing.
Action has been better for anglers slow trolling and spider rigging tube jigs and Road Runner style leadheads in the upper portion of Big Sandy and West Sandy. A lot of crappie were coming from 5 to 11 foot zones in the New Hope and Country Junction area this week. West Sandy was also producing fish as most were suspended in what appears to be a postspawn pattern which was accelerated due to the higher than normal lake levels coinciding with above normal temperatures.
While midday action was slow, anglers were finding action improving in the early morning and late afternoon hours due to lowlight conditions. The clear water appeared to have fish acting quite finicky in manmade fish attractors in shallow areas.
In the upper portion of Big Sandy near the gravel pits anglers were catching a few crappie in two to four foot depths. Casting jigs seemed to be the popular technique.
Surface temperatures warmed quickly since the weekend as backwater bays were showing 65 to 68 degrees at midweek. Watercolor in the Paris Landing area has been extremely clear while the upper Big Sandy has a little stain.
Observed lake elevation at New Johnsonville was 358.2 and falling slowly. Kentucky Dam had readings of 358.1 and falling slowly. Earlier this week levels rose to the 358.6 mark across much of the reservoir. TVA's normal curve for reservoir filling isn't supposed to reach that level until the last week of April.
Jigs tipped with minnows were producing for anglers drifting and vertical fishing. Popular colors were dull colored skirts sporting metal flake fished on unpainted leadheads.
Although many anglers are hoping things improve, it appears the crappie are already on the backside of their peak-spawning phase. While action may be tough for a week or two, look for some improvement this weekend if cloudy days return and lake levels fall somewhat.
Bass action was good this week as the rising lake levels inundated shoreline habitat such as shallow grassbeds and treelaps. Areas where dry sandbars and bush flats were exposed early last week now have water on them deep enough to hold fish.
Many bass were seen in shallow grass appearing to take on early spawning habits.
Several buck bass are running minnows in shallow vegetation. With the warmer water anglers were tossing some topwater lures and floating worms.
Lizards were producing well fished in both a Texas rigged style and floated over shallow cover. Spinnerbaits were producing well too.
While some anglers are still fishing Carolina rigs on rock points, along with jig and pig combos around wood, most of the fast action has come from shallow shoreline habitat this week as the bass have taken advantage of the quick change in lake levels and moved up.
Expect bass fishing to hold up quite well this week as the fish take on a spawning mood. Action has definitely improved in the bass department as the fish are much more aggressive this week.
Bluegill and redear (shellcracker) are acting up too. The recent warm spell has stimulated action for the feisty fish that are roaming the shallows with an appetite. Although not on the bed just yet, the fish are roaming around boat docks and shallow grassbeds.
It's time to dust off the cricket boxes and toss a bobber in their direction. The sunfish army is waiting to do battle with you.
For The Lake Barkley Report
Click Here
For Other Kentucky Lake Fishing Reports
Click Here
Steve McCadams
is a professional hunting and fishing guide here in the Paris Landing area and host of The Outdoor Channel's television series IN-PURSUIT.