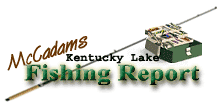 Brought to you by: Fishtale Lodge
Steve McCadams'
Kentucky Lake Fishing Report for:
April 16th, 2004
CRAPPIE AND ANGLERS CONFUSED…WEATHER CHANGES A FACTOR
About the only ones more confused than the crappie are those fishing for them. How about this weather lately?
Kentucky Lake has had a dose of winter, spring and summer in just one week!
Most anglers know not to put up the overcoat until mid-April but who would have dreamed of a snowstorm? Everyone from the turkey hunters to bass and crappie fishermen woke up to the white stuff Tuesday morning.
When I blasted off Wednesday morning on a crappie outing it was rather uncanny to glance across the rolling hills and see snow still hiding on the shady sides of treelines. Paris Landing State Park golf course looked like a ski slope.
Temperatures on Tuesday were some 25-degrees below normal when the snow hammered its way to Kentucky Lake. The day before it was cold too with brisk north winds and brutal gusts of wind and rain mixed.
By Wednesday morning surface temperatures had fallen ten degrees from when I was on the lake late Saturday afternoon. It was a cool 54-degrees Wednesday morning, down from 64 Saturday. By late afternoon, however the water had rebounded to the 58-degree mark.
Rising lake levels are part of the change taking place out there too. Since last weekend the lake has been on a steady rise but seemed to jump even more at midweek after the rain and snow melt.
TVA indicates lake levels this weekend will be 357.1 at New Johnsonville while downstream at Kentucky Dam readings will be in the 357.5 range.
Watercolor is still clear throughout the Big Sandy River, although some stain is present in the upper basin around New Hope, Country Junction and the gravel pits. West Sandy is relatively clear down past the power lines at Mansard Island. Paris Landing is clear in the main lake with some stained water in the upper end of large bays.
How did the cold fronts affect the fishing? Earlier this week the drastic changes seemed to send the fish into a mode of hibernation. By midweek, the warming trend began but the north wind and high-pressure system chased away the clouds, which made for tough fishing conditions in the aftermath of it all.
Fish were taking jigs and minnows with a very tentative bite at midweek. Most of the fish I caught on Wednesday were finicky bites and even the larger fish displayed no aggressive behavior. And, the fish were quite scattered.
With the arrival of warm and sunny skies, action should improve this weekend for both bass and crappie anglers. Surface temperatures will likely rebound into the upper 60's by early next week.
There are still a few crappie that haven't spawned but the rash of cold fronts this spring has not been a friend to the fish or the anglers. There has not been a major movement of fish toward shallow spawning areas as has been the case in times past.
This weekend should see some fish move up into shallow flats and perhaps some large bays in a second or third attempt to find spawning habitat and suitable conditions. However, it seems once the fish make an initial move in late March or early April and then get pushed back by cold fronts, the second and third attempts are never as productive for the fish or fishermen.
Still, anglers should see a few crappie enter the stump flats and manmade fish attractors in the 8 to 12 foot zone this weekend.
Techniques such as drifting, trolling, and pulling multi-pole rigs will likely produce best this week as some fish will remain suspended, especially those already in a post-spawn phase.
Lures such as Roadrunners and twister tail grubs are producing for trollers while most of the vertical style anglers are using tube jigs tipped with live shiner minnows or Berkley Power bait.
Some spawning fish should be taken around structure this weekend and early next week.
Bass action dropped off the radar screen for a couple of days due to the cold front. Yet the shallow water is warming quickly so the fish bounced back quickly thanks to some warm sunshine.
Some good fish were taken in the last few days by anglers tossing spinnerbaits, crankbaits, tube style jigs, worms, and jig and pig combos. The rising lake levels continue to provide more shallow habitat for anglers.
A few fish were taken in open mud flats and coves by anglers casting Rattle Traps and shallow running crankbaits. Watch for an increase in topwater activity this weekend with the warmer water.
Some stickups and dead grass beds are now holding enough water to attract bass so a variety of baits will start producing bass this week.
Warm weather is finally here but it has been a most unusual week for anglers. Hopefully, spring is here to stay.
For The Lake Barkley Report
Click Here
Also check out our past:
Kentucky Lake Fishing Reports
Steve McCadams
Steve McCadams is one of the nation's best known Crappie Fishermen and a full time resident of Paris, Tennessee. Steve is also a professional hunting and fishing guide here in the Paris Landing area.