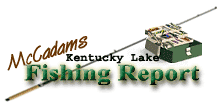 Brought to you by: Fishtale Lodge
Steve McCadams'
Kentucky Lake Fishing Report for:
April 14th, 2006
ANGLERS ENJOY GOOD WEEK OF FISHING
Anglers have enjoyed a good week of fishing here on Kentucky Lake after saying goodbye to a cold front last weekend that slipped in the door.
Overall conditions this week have been good to crappie and bass anglers, although lake levels jumped a bit above normal earlier in the week in the aftermath of heavy rains leftover from last week's storms.
Early in the week the reservoir rose rapidly with a lot of floating debris present and fish appeared to scatter for a day or so, which is a typical response when waters rise too fast. Yet warm weather help get the crappie back on track early in the week and the reservoir crested Tuesday and began falling slowly.
Crappie have been spawning the last several days throughout most of the Paris Landing and Big Sandy embayment. Surface temperatures have been in the 63 to 66 degree range the last few days.
Big numbers of fish have been taken this week from a variety of depths but that 6 to 10 foot range has been a popular choice as some hefty slabs have chosen it as spawning zones. A few fish moved up in 3 to 5 foot depths along gravel banks and shallow structure too.
Not all the fish have moved shallow, however, as some anglers drifting and trolling the main lake are finding fish still relating to main-lake ledges. Some crappie were scattered in the 9 to 14 foot zones with a few fish still lingering off the drop-offs in 15 to 17 foot zones this week.
Vertical presentations of jigs over submerged structure has paid big dividends as the fish deposit eggs around wooded habitat. Popular color choices have been black, silver, and red leadheads armed with several different color skirts such as clear sparkle, pearl, motor oil, chartreuse with metal flake, and yellow and chartreuse combinations.
Water color remains clear in most of the Paris Landing area as the rising lake levels have kept any runoff pushed back up in creeks. Some dingy water is present in the upper Big Sandy.
TVA continues to revise its three-day projections for lake levels. Presently the reservoir is above normal for mid-April and continues to rise slowly after a crest at midweek and slight fall in elevation.
Readings are expected to be 358.6 going into the weekend for the New Johnsonville area, which is some 18-inches above normal for this time of the year. Whether or not TVA holds the higher elevation or draws the reservoir back down to its normal curve is anyone's guess.
Elevation will be slightly higher at Kentucky Dam with a projection of 358.8 going into the weekend.
Some anglers like the higher water but it can confuse both the fish and the fishermen when it jumps up too fast.
Meanwhile, good catches of crappie have come from the New Hope, Country Junction, West Sandy, and Mansard Island area this week. The mouth of Big Sandy and Eagle Creek has also seen good stringers of crappie taken by just about every technique you can imagine.
I witnessed several nonresident anglers casting jigs along gravel banks and catching fish while others were trolling plainer boards, spider rigs, and long line drifting. All seemed to be boating fish now and then.
Bass anglers were beating the banks early this week as rising lake levels inundated shallow grass beds and those popular yellow flowers that seem to attract largemouth. With a full moon upon us chances are some fish may make an early attempt to go on bed.
While the moon phases will no doubt stimulate the crappie spawn, chances are some bass will attempt to spawn as well as there always seems to be a few early ones when full moon phases coincide with warm surface temperatures.
Some bass will wait until late April or early May to fan out their spawning craters but watch for the biological clock to jump start this week for bedding bass.
Already popular are Texas rigged worms and lizards fished around shallow cover as are floating works and flukes. Spinnerbaits and shallow running crankbaits are working too as are topwater choices such as floating Rapalas, Bango Lures, Pop-R, Zara Spook, and Rogues.
Fishing is good and that's no lie!
For The Lake Barkley Report
Click Here
Also check out our past:
Kentucky Lake Fishing Reports
Steve McCadams
Steve McCadams is one of the nation's best known Crappie Fishermen and a full time resident of Paris, Tennessee. Steve is also a professional hunting and fishing guide here in the Paris Landing area.