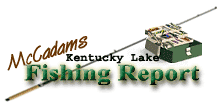 Brought to you by: Fishtale Lodge
Steve McCadams'
Kentucky Lake Fishing Report for:
April 13th, 2007
COOL WINDY WEATHER CHALLENGING ANGLERS
For more than a week anglers have had to battle high winds and cool temperatures here on Kentucky Lake. Conditions have challenged both bass and crappie anglers in the aftermath of last week's brutal cold front.
Hoping for a rebound to warmer weather and rising surface temperatures, crappie fishermen have seen some improvement earlier this week compared to the previous week when gale winds and bitter temperatures dominated the fishing scene, interrupting the early spring crappie spawn.
Earlier this week some pretty good stringers were taken from main lake ledges where submerged structure on the deeper sides of ledges in 18 to 24 foot zone was paying dividends. A lot of fish were riding out the cold front and falling surface temperatures in deeper water.
By midweek a few fish were returning to midrange depth ranges such as 9 to 13 feet where stakebeds and brushpiles were showing signs of improvement. However, gale winds have limited access to open water areas the last few days.
What's the status of the crappie spawn? That question has been on the minds of most local anglers and tourists visiting the region in hopes of finding shallow fish sporting an appetite.
Surface temperatures this week have been stubborn to rebound, reflecting the lingering cool spell. Prior to last week's cold front surface temps had climbed to 70 degrees in some areas but by last weekend many shallow bays had dipped to 53 degrees while the main lake was hanging on to the 57 to 59 degree range.
Several crappie have not spawned and are awaiting the warm spell before moving back into shallow or midrange structure. Once surface temps return to the 62 to 66 degree range look for a late wave of crappie to make an attempt. It appears a large portion of fish did spawn back during the last week of March and very early April prior to the arrival of the cold front, however.
Water color remains clear in the Paris Landing area of the Big Sandy and Tennessee Rivers but backwater bays and some flats off the main lake are sporting a good stain for fishing.
Until a warm spell returns and stay around for a few days, look for crappie to continue to occupy a variety of depth ranges and the fish are somewhat scattered and confused by the unstable weather.
Predicted lake levels going into the weekend will be 356.6 at Kentucky Dam. Upstream at New Johnsonville the elevation will be 356.4. Kentucky Lake's elevation continues to rise slowly each week and will crest at the summer pool level of 359 on or around May 1 under TVA's normal curve for reservoir filling here.
Popular techniques continue to be drifting, slow trolling spider rigs, pulling long lines, and vertical presentations of double-hook bottom bouncing on deep ledges while some success is coming from vertical fishing digs in and around manmade fish attractors.
Several days have seen jigs tipped with minnows produce well.
Color combinations such as chartreuse with red metal flake, purple/chartreuse, black/chartreuse, and red/chartreuse, just to name a few. Tipping with various scent attractants has also enhanced bites.
Watch for increased numbers of fish to move back into midrange depth zones as soon as warm weather returns.
Bass anglers have also been victims of the colder surface temperatures as a lot of the shallow fish seemed to turn off when surface temps plummeted late last week. Since then the fish have been sluggish to bounce back and taking on a finicky mood.
Gravel banks and big rock points are likely still holding some fish that will get back to hitting crankbaits, jig and pig combs, suspending jerk baits and some Carolina rigged lizards soon.
Water levels are still over a week away from reaching those shallow grass beds where the popular yellow flowers harbor fish. Some bass were already jumping on spinnerbaits and topwater before the cold front but this week the shallow structure and fast moving baits have been less attractive to the sluggish fish.
A few smallmouth were still showing up from somewhat deeper water where crankbaits and hair jigs were producing as were some grubs.
Right now it's still a pattern of gravel and rock banks with some deeper humps or sloping points producing best. Watch for a quick improvement in shallow pockets as soon as the water warms and coincides with rising lake levels.
For The Lake Barkley Report
Click Here
Also check out our past:
Kentucky Lake Fishing Reports
Steve McCadams
Steve McCadams is one of the nation's best known Crappie Fishermen and a full time resident of Paris, Tennessee. Steve is also a professional hunting and fishing guide here in the Paris Landing area.