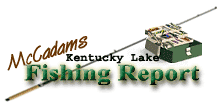 Brought to you by: Fishtale Lodge
Steve McCadams'
Kentucky Lake Fishing Report for:
April 13th, 2004
SNOW SENDS SPRING FISHING PATTERNS INTO HIBERNATION...(WARMER WEATHER ON THE WAY)
Anglers in the Kentucky Lake area woke up to snow and bone chilling north winds today (Tuesday), courtesy of a drastic weather change that temporarily sent spring fishing patterns into winter hibernation.
It has not been a good post Easter fishing spree as both the anglers and fish have been confused and pushed back by the cold weather, high north winds, and mixture of snow and rain.
However, warm weather is on the way and anglers could see sunny skies and temperatures returning to the mid 70's later this week. Fishing should bounce back for bass and crappie anglers by Thursday.
Crappie have been attempting to spawn this last week throughout much of the reservoir but success has been mixed as the fish were scattered in various depth ranges and locations going into Easter weekend.
Some slabs were taken last week during a three-day segment of warm sunshine and light winds where surface temperatures rebounded into the 62 to 64 degree range. Success stories were mixed, however, as a lot of traditional areas known to appeal to shallow water crappie were not producing high numbers of fish.
Many crappie remained suspended in midrange depths of 8 to 12 feet out in the main lake and around open water flats. The most consistent stringers have been taken by anglers drifting, slow trolling, and pushing multi-pole spider rigs where a variety of baits have been fished over large areas and different depth zones. This further indicates the scattered pattern and confusion of the fish which seemed to be reluctant to related to structure lately.
While a few good fish have been taken from stakebeds, brush piles, and stump fields in 8 to 12 foot depths, fish have been scattered requiring anglers to make a lot of stops. Jigs tipped with minnows have worked best. Colors in the light blue and sparkle, chartreuse with red metal flake, pearl with red metal flake, and silver or smoke colors with sparkle have worked well.
A few fish remain on main lake ledges in depths of 19 to 23 feet. There are a lot of small fish there, however, with only a few making it past the 10-inch minimum length limit. The larger fish appear to be in-between the shoreline and deep water, although several dark male crappie were caught late last week on gravel banks and shallow structure.
Surface temperatures have plunged back into the 57 to 59 degree range today. Today's air temperature is expected to be 25 degrees below normal!
Lake levels are rising and Kentucky Lake will see a continued increase in lake stages the rest of this week due to rains throughout the TVA valley. Observed elevation in the Paris Landing area was expected to be 356.4 today and rising a few inches throughout the week.
At Kentucky Dam lake stages were in the 356.9 range and rising while upstream at New Johnsonville the elevation was slightly lower with readings in the 356.5 range.
Water color has gone from extremely clear to somewhat stained in the upper Big Sandy and West Sandy areas. The Paris Landing area has some dingy water due to wind and runoff in secondary bays while the main lake areas remain clear.
How will all this cold weather effect the crappie and bass spawning phases? That's a question on the mind of all anglers right now.
It appears a few crappie have already spawned as some females were taken this week sporting a thin appearance due to dropping eggs. Yet a few fish still have eggs sacs and may be reluctant to spawn until conditions improve and water temperatures return to the mid to upper 60's.
Sometimes, when conditions are adverse and continued cold fronts interrupt peak periods, crappie will reabsorb eggs and not spawn at all while others may wait and make a late attempt at the annual ritual.
Watch for improvement later this week as warm weather returns and the fish resume a bite, although don't expect any mass migration to shallow areas.
Bass anglers continue to find fish moving up to shallow structure with some hefty catches taken around stickups. Several fish exceeding the 5-pound mark are being caught by anglers working spinnerbaits, shallow running crankbaits, floating tubes and worms, and jerk baits.
Many bass moved to shallow pockets and bays late last week where warmer water was present. Some fish even appeared to be going through early spawning phases around gravel banks as warm weather and a full moon may have triggered some early attempts.
Most fish will back off this week due to cold weather but should resume a more aggressive mode by the weekend.
A few dandy smallmouth were taken last week as anglers worked small finesse baits such as hair jigs and inline spinners around rock bluffs and rip-rap. Some jig and pig combos were producing as were crawfish colored crankbaits.
Rising lake levels this week will likely seen bass activity improve along shoreline structure such as exposed crappie beds, dead grass banks, and rocky points. Tennessee shad colored crankbaits and other shad imitations will produce this week but watch for the return of loud colored lures to appeal if muddy water enters the picture in some areas.
Overall, crappie fishing has been off this week but should improve. Bass fishing has held up pretty good and should continue to improve.
Weather is always a factor during the spring fishing season and this year has seen an abundance of unstable conditions and wind challenge anglers. Still, no one can outguess the weather and the best time to go fishing is whenever you can!
For The Lake Barkley Report
Click Here
Also check out our past:
Kentucky Lake Fishing Reports
Steve McCadams
Steve McCadams is one of the nation's best known Crappie Fishermen and a full time resident of Paris, Tennessee. Steve is also a professional hunting and fishing guide here in the Paris Landing area.