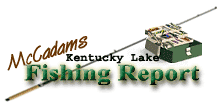 Brought to you by: Fishtale Lodge
Steve McCadams'
Kentucky Lake Fishing Report for:
April 12th, 2005
CRAPPIE AND BASS ACTION IMPROVES...LAKE LEVELS FALLING FAST...SEVERAL CRAPPIE STILL IN SPAWNING PHASES
Crappie action has improved within the last day or two here in the Paris Landing area after a weekend of rising lake levels that really scattered fish.
Lake levels are falling fast as TVA draws the lake back down to its curve for reservoir filling, creating more storage capacity should additional flooding hit the valley.
Tuesday the lake began falling a few inches after cresting on Monday. Fishing improved as crappie seemed to return to structure and resume spawning after a day or two of roaming open waters.
Presently the lake levels at New Johnsonville are in the 359.5 range but projections are for readings of 358.2 by Thursday. Kentucky Dam is expected to have an elevation of 357.9 on Thursday. Therefore, the lake will fall several inches each day.
Surface temperatures are in the 63 to 66 degree range throughout most of the reservoir with the upper Big Sandy and West Sandy area showing the warmest readings.
A lot of crappie have been caught the last few days in the New Hope and Country Junction area up Big Sandy as anglers there mostly trolling jigs or using drifting techniques. Some good stringers were also taken in Swamp Creek and around the Sulphur Well Island sector where crappie fishermen were trolling, drifting, and also vertical fishing manmade fish attractors.
A few anglers are working main lake ledges where some scattered fish were taken on the tops of sandbars in 12 to 14 foot ranges. Not many fish are relating to the deeper depths.
A few scattered fish have also been caught around some shoreline habitat in the upper Big Sandy mud flats but receding waters will make most of that structure too shallow in the days ahead.
I found improvement in my 9 to 12 foot crappie beds today (Tuesday) as fish were taking 1/16-ounce jigs tipped with minnows and some fish preferred just the jig. Tipping it with Berkley Power Bait helped some too. Many of the same areas were void of fish over the weekend.
Popular colors have been white and unpainted leadheads with while/clear sparkle, chartreuse with red or blue metal flake, and some hair jigs with light brown and yellow tails and water color has been relatively clear.
In stained water some red and chartreuse, along with pink and pearl, light blue and chartreuse, and various florescent combinations have worked such as green and orange.
Male crappie are quite dark in color, indicating spawning is underway. A few females appear to have already dropped eggs but there are still several fish holding eggs. So, spawning is still underway and many fish are doing it in deeper water and away from shoreline structure.
With lake levels falling, look for increased numbers of crappie to fall back to the 7 to 10 foot range in the days ahead. Fishing will likely improve for anglers fishing submerged structure in these zones.
Bass really moved up to shallow weedbeds and wooded structure the last few days when the water rose. The popular yellow flowers around back bays and shallow shorelines was holding fish.
Successful lures were floating worms, flukes, jerk baits, and lizards. Spinnerbaits were also producing. A few outside buck bushes were drawing fish earlier in the week but falling lake stages will likely pull bass back off the banks somewhat in the next few days or at least draw them to steep banks where deeper water is close by.
Carolina rigged lizards and crankbaits will continue to produce around points and rocky areas as fish pull back out of pockets and relate to sloping points near deeper venues.
Some bass will likely go on bed within the next week or two.
Anglers can expect a lot of current in the main Tennessee River channel areas where stained water is now present.
Late last week rising lake levels had debris floating throughout the reservoir as lake stages jumped by almost a foot for two to three consecutive days. After four days of rising lake levels anglers can expect just the opposite for a few days.
Generally speaking, fishing has improved for most anglers in the last day or two after a weekend of difficulty in the aftermath of rising lake stages.
For The Lake Barkley Report
Click Here
Also check out our past:
Kentucky Lake Fishing Reports
Steve McCadams
Steve McCadams is one of the nation's best known Crappie Fishermen and a full time resident of Paris, Tennessee. Steve is also a professional hunting and fishing guide here in the Paris Landing area.