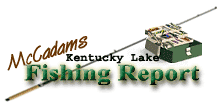 Brought to you by:





April 1, 2011

CRAPPIE SPAWN APPROACHES…MEAN MARCH SAYS GOODBYE


April is about to chase away a mean March that wore out its welcome. An overdue warm spell is in the forecast for the weekend which should see surface temperatures rebound and stimulate early phases of spawning for Kentucky Lake crappie in the days ahead.

Bone chilling winds and rain have dealt a bad hand this past week for both bass and crappie fishermen as below average temperatures dominated the fishing scene. It has been a continuation of the spring saga that may be one of the worst ones in recent memory.

From high and rising lake levels to a fast fall, anglers have battled changing elevation for several weeks that added insult to injury.

It appears fishing conditions are about to improve, however, as lake levels are back down and surface temps should rise throughout the weekend. Scattered crappie have been roaming this week and thrown off balance by the cold fronts but should start moving up fast in the days ahead in their search for spawning structure.

Male crappie showed spawn in fast approaching as hormonal changes were taking place. Several darker fish were beginning to move up toward midrange depths and bulging females have been riding out the cold snap out away from structure until conditions improve.

While the males usually enter shallow areas first, females often stage out away from structure until warmer conditions arrive. That appears to be the case lately as a few fish were taken in 7 to 11 foot zones but not relating to cover in large numbers.

Surface temps this week fell back to the 52 degree range at midweek after warming up to 59 last week for a day or so. Watch for a quick rebound by early next week after overdue sunshine enters the picture.

Peak spawning phases usually occur once water reaches that 62 to 66 degree range. Cold conditions have been reluctant to loosen the grip but it's that time of year when things change fast.

Water color is in good shape over most of the reservoir. Lake levels are forecasted to stabilize as the weekend approaches after more than a week of steady decline. TVA normally begins reservoir filling on April 1 with a target date of summer pool (359) by May 1.

Projections for the weekend are 357.1 at Kentucky Dam. Upstream at New Johnsonville lake levels will be in the 357.4 range.

Anglers should see a significant improvement by early next week as crappie are likely to make a blitz toward shallow stumps, stakebeds and brushpiles in that 7 to 12 foot zone. Clearing water conditions could also see fish move up on top of shallow flats and sandbars in the main lake where spawning could take place in 8 to 10 foot depths.

Although catch rates have been down drastically in the upper Big Sandy, West Sandy and Paris Landing area---as is the case across most of the reservoir---watch for that to change as those using long line or spider rigging techniques will see a turn around.

Vertical jigging around submerged structure will no doubt improve. Bottom line is that most all techniques have been victims of bad weather, high winds, and changing lake levels the last few weeks.

In my 37-year career as a professional guide it has been one of the toughest months of March I can recall as to the crappie fishery. Bass action has held up but the late winter and early spring crappie fishing has been about like kissing your sister!

Some hefty bass continue to come in as anglers play the current along the main Tennessee River channel ledges and points. A few nice smallmouth were taken the last week or two by anglers tossing grubs and crankbaits.

Some nice largemouth were staging out on main lake ledges this week too, a likely response to the cold fronts and falling lake levels that pulled them out away from shallow shorelines and gravel points.

While a few fish were taken by anglers beating the banks with shad colored crankbaits and some suspending jerk baits, most fish backed off shallow mud flats and gravel points. Watch for that shallow bite to resume as soon as surface temps rebound and lake levels stabilize or begin rising slowly.

Some bridge piers and rip-rap banks were holding bass and will continue to be popular places this next week. Current has been a factor now for over a week and falling lake stages have pulled some fish back to areas near deeper escape routes.

Overcoats and coveralls have been standard attire lately but it appears fishermen will get a dose of spring soon. My trolling motor batteries and I will welcome some light and variable winds and shirt sleeve mornings once they arrive.


Also check out our past:
Kentucky Lake Fishing Reports

Steve McCadams is one of the nation's best known Crappie Fishermen and a full time resident of Paris, Tennessee. Steve is also a professional hunting and fishing guide here in the Paris Landing area.