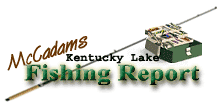 Brought to you by: Fishtale Lodge
Steve McCadams'
Kentucky Lake Fishing Report for:
April 11th, 2008
LAKE LEVELS RECEDE AS CRAPPIE SPAWN ARRIVES
Look close and youíll see an increasing amount of bald headed anglers fishing Kentucky Lake. Thatís because just about everyone is pulling their hair out over unstable conditions that have played havoc with the spring fishing scene
From changing lake levels to changing weather, anglers on Kentucky Lake have had some hurdles. To say itís been tough would be greatly understating the fishing scenario.
March madness may have come and gone but it appears awful April has taken its place.
Since last week fishermen have encountered falling lake levels that quickly did a turnaround in the aftermath of heavy rains that contributed to a rapid rise of some three feet in three days.
Now, lake levels are falling again in this unusual spring that has dealt a tough blow to most anglers who wonder when the peak spawning time for crappie will occur. Also of interest is whether or not fish will come to shallow shorelines to spawn in the next few days while TVA attempts to pull lake levels back down to the agencyís elevation curve.
Crappie normally spawn when surface temps reach the 62 to 66 degree and stay there for a few days. Although some warm-up occurred earlier in the week, the water cooled some at midweek and hasnít rebounded back to the range of preference.
Presently, surface temperatures are in the 57 to 59 degree range after making a brief visit to the low 60ís on Monday. Cooler weather is in the forecast for the weekend so that could push the spawn back toward the middle or latter part of next week.
Water color is pretty good in the main lake with slight more stain present in the upper ends of bays.
Lake levels are falling fast as TVA really pulled the plug the last few days. Elevation at both New Johnsonville and Kentucky Dam is expected to be in the 363 range as the weekend approaches. Thatís down some three feet since the lake crested Tuesday near the 366 mark, which made it about 9 feet over normal for this time of year.
Look for lake levels to continue a rapid decent in the days ahead as TVA spills water through Kentucky Dam in an attempt to get lake levels back down and create more storage capacity.
Crappie fishing may improve by early next week as lower lake stages will help but a cool front this weekend isnít welcomed news. Still, with water temps reluctant to climb into the mid 60ís the timetable will continue to be pushed back as to prime time spawning phases.
Meanwhile, crappie anglers may well see some buck bush fishing opportunities next week as fish creep toward shoreline habitat that has been inundated for quite some time. Those bushes and willow trees could very well appeal to fish looking for spawning territory next week as lake levels are likely to be somewhat above normal.
Fish have been tough to pattern the last few days as they continue to roam and scatter out away from structure. A few fish have suspended in the middle of nowhere as they too have been confused by changing lake levels.
Some anglers scored decent stringers this week as they trolled and dragged long lines in open water making several different depth presentations. It has been a one-here, one Ėthere scenario for most.
Up near New Hope and Country Junction some fish were taken in the 12 to 14 foot flats earlier in the week. Spider rigs and drifting multipole presentations have been the most productive techniques as boats covering the most open water have done the best.
Some fish were lingering on the deep sides of ledges too and at the mouth of Big Sandy depths of 20 to 24 feet were harboring scattered fish. However, the fish have not been relating to structure and that has made it difficult for anglers to locate them.
Other areas still producing have been the Big Sandy culvert where good crappie fishing continues for bank fishermen. And, watch for the backwater in West Sandy to begin producing fish in the days ahead as well.
The falling lake levels on the main lake should help anglers get a better handle on things in the days ahead.
Bass fishermen continue to land some hefty stringers as tossing spinnerbaits over submerged grass and bushes continues to produce. Also popular have been the pitching and flipping techniques where jig and pig combos, lizards, crawfish and worms worked around buck bushes and willow trees have produced.
Some anglers are already trying topwater and that style should continue to improve in the days ahead
Current is present in the main river and along islands and points.
Some nice smallmouth continue to show up in the creel of anglers fishing the east side of the reservoir where those rock bluffs and flowing feeder creeks have attracted fish toward the upper end when the reservoir was at its highest mark.
Fishing patterns will continue to change as lake levels fall. Bass may move to outside cover on the edge of shorelines this week. Watch for those point bushes and trees to be hotspots in the days ahead.
For The Lake Barkley Report
Click Here
Also check out our past:
Kentucky Lake Fishing Reports
Steve McCadams
Steve McCadams is one of the nation's best known Crappie Fishermen and a full time resident of Paris, Tennessee. Steve is also a professional hunting and fishing guide here in the Paris Landing area.