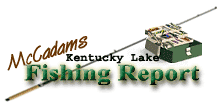 Brought to you by: Fishtale Lodge
Steve McCadams'
Kentucky Lake Fishing Report for:
April 1st, 2005
CRAPPIE SPAWN ABOUT TO BEGIN
Crappie will likely enter the early phases of spawning this next week here on Kentucky Lake.
Most anglers consider it to be crappie fishingís peak yet thereís a big window of opportunity throughout the year. Still, thereís no question as to the popularity of spawning time here on Kentucky Lake. That phase is about to begin.
Action has improved throughout the week for crappie anglers here in the Paris Landing area as surface temperatures continue to warm, signaling to weary crappie that the annual ritualís time has come.
Despite inclimate weather where high winds have whipped up whitecaps on the main lake, some dandy stringers of fish have been taken this week from a variety of depths. The fish have really been on the move, meandering along main lake ledges enroute to secondary bays and shallow territory.
I found fish hitting good in the deep water for a few days and the 20 to 25 foot zones produced some hefty fish in good numbers. However, late last week crappie moved into 7 to 12 foot manmade fish attractors.
Then, after thunderstorms and heavy rains Easter Sunday that sent muddy water flowing into many bays, the fish seemed to back off for a day or two and scatter. The deep venues were still holding some fish but numbers were less concentrated.
By Wednesday, surface temperatures were rebounding and that pulled some fish back to structure in 7 to 12 foot areas that were void of fish the day before. So, a lot of movement is underway as the fish seek spawning areas and migrate into midrange and shallow depths.
Surface temperatures are now in the 55 to 58 degree range. Thatís a few degrees warmer than last week. Crappie will begin spawning when surface temperatures reach 62 degrees but prefer the range of 62 to 66 degrees without interruption of cold nights or drastic weather changes.
Water levels have been rising slowly this week in the aftermath of heavy rains. TVA normally begins reservoir filling on April 1 anyway but the lake got a little head start this week due to the runoff.
TVA indicates the reservoir will rise for the next few days and reach the 355.8 level at New Johnsonville this weekend. However, lake levels will fall slightly for a couple of days, according to the forecast, and recede back to the 355.5 range by early next week.
Watercolor is good throughout much of Big Sandy around the TVA power lines and Sulphur Well Island while some dingy color is present in the Paris Landing area. Some of the extremely shallow bays are muddy in the upper ends but sporting a good stain for fishing in the middle and toward the mouth.
Several male crappie are under the spell of hormonal changes and turning a darker shade of purple, a clear indication that spawning time is fast approaching.
Some male crappie have already approached shallow gravel banks and structure in 3 to 6 foot depths while the larger females are laying out deeper until conditions are just right for egg deposits.
Popular colors in the stained water areas have been florescent painted leadheads in the chartreuse, hot pink, green, and yellow colors armed with white and chartreuse, black and chartreuse, lime and pink, and some blue and green color combinations of tube skirts.
I found fish hitting good on 1/16-ounce and 1/8-ounce jigs fished in a vertical presentation over structure. And, jigs tipped with minnows worked well when fished turned finicky. Tipping with some Berkley Power Bait also stimulated some strikes.
Several other anglers are pulling jigs or drifting over stump fields and finding fish too. Several fish are suspended at 7 to 10 foot depths over 12 to 15 feet of water in the Mansard Island area.
Other popular techniques have been trolling Road Runners on long-line presentations and drifting jigs and minnow rigs using wind socks to slow the boat speed down in the high winds.
A few anglers are casing light spinning tackle and using twister tail grubs or weedless jigs such as the Charlie Brewer sliders.
Itís that time of the year when a multitude of techniques produce fish from a variety of depths or locales here. Crappie will often seek shallow water and being spawning a few days earlier in the upper Big Sandy when compared to other sectors of the lake.
Thatís likely due to the shallow basin where stained waters warm quicker.
Meanwhile, action in the bass department continues to hold up well but has, at times, been a victim of cool night and some high-pressure days were the clear blue sky slowed the bite.
Those rock points and gravel banks are still producing this week. Crankbaits, slow rolling spinnerbaits, and jig and pig combos have worked well. Some smallmouth and largemouth have taken suspended jerk baits fish out away from the bank as well.
Crawfish and shad colored crankbaits continue to be hot items in the tackle box. Some chrome colored Rattle Traps have produced as have some loud colored crankbaits fished in the dingy water.
Watch for bass action to hold up well this week as the fish also turn on to topwater lures around shoreline cover.
Some stripers are still being taken along the main river channel, especially where current is present around rock points or along main river ledges.
Spring fishing is in high gear. Itís time to wet a hook!
For The Lake Barkley Report
Click Here
Also check out our past:
Kentucky Lake Fishing Reports
Steve McCadams
Steve McCadams is one of the nation's best known Crappie Fishermen and a full time resident of Paris, Tennessee. Steve is also a professional hunting and fishing guide here in the Paris Landing area.