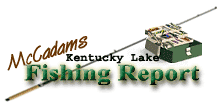 Brought to you by: Fishtale Lodge
Steve McCadams'
Kentucky Lake Fishing Report for:
April 10th, 2005
RISING LAKE LEVELS SCATTER FISH...CRAPPIE ON THE MOVE AS SPAWN BEGINS BUT ANGLERS SUCCESS RATE DROPS OFF
Despite some beautiful weather over the weekend, anglers had slower success rates due to rising lake levels that scattered fish here on Kentucky Lake. Lake levels have jumped some 3 1/2 to four feet in three days.
Presently, lake levels are 359.8 at New Johnsonville, which is about 3 1/2 to four feet higher that it should be at this time period in April. That level is already above the summer pool mark, which under normal conditions shouldn't be showing up until May 1.
At Kentucky Dam the readings were 358.7, which is more than a foot difference from the upriver location at New Johnsonville. TVA is discharging a lot of water through the dam and lake levels are expected to crest Monday and begin falling that night.
Surface temps have warmed into the 63 to 66 degree range the last day or two. However, the fish are mixed up somewhat from the dramatic increase in lake levels and have greatly scattered the last 48 hours, leaving structure and suspending while on the move here in the Paris Landing area.
Crappie are attempting to spawn but a lot of fish are not relating to structure the last two days due to rising lake levels that often scatter fish and make it difficult to establish a pattern. The upper Big Sandy area around Country Junction and Sulphur Well Island gave up some good fish yesterday, however, as a few anglers in that area found fish apparently headed in that direction in search of spawning zones.
Several fish were taken by anglers drifting and slow trolling. This technique allows anglers to cover a lot of water and when fish are suspended and scattered it works quite well. However, many fishermen reported tough sledding yesterday as the fish just didn't seem to be where they were a day or two before and the bite was much slower.
Water color is relatively clear throughout the reservoir as the rising levels pushed the runoff of heavy rains earlier in the week back into the upper ends of bays.
Bass action was tough too but look for the fish to move quickly into shoreline habitat within the next 24 hours. The shallow areas are warming fast and weedbeds and buck bushes that were high and dry at midweek are now inundated with water.
I will update this report again in 48 hours. Thanks for checking in.
For The Lake Barkley Report
Click Here
Also check out our past:
Kentucky Lake Fishing Reports
Steve McCadams
Steve McCadams is one of the nation's best known Crappie Fishermen and a full time resident of Paris, Tennessee. Steve is also a professional hunting and fishing guide here in the Paris Landing area.