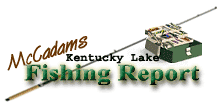 Brought to you by: Fishtale Lodge
Steve McCadams'
Kentucky Lake Fishing Report for:
April 4th, 2003
CRAPPIE SPAWN UNDERWAY
(ANGLERS ENJOY HEFTY CATCHES)
Kentucky Lake's crappie spawn is underway. After a slight setback due to last weekend's cold front, surface temperatures have been climbing back all week.
By this weekend crappie will be spawning around submerged structure such as shallow stumps, and manmade fish attractors such as brush piles and stakebeds.
Surface temperatures dropped from 62 down to 56 degrees in some areas early this week as the bitter north wind sent a chill to the air and water.
Anglers were donning heavy coats and bouncing in the waves for a few days but warm weather returned quickly by midweek, although gale winds have been a thorn in the side of anglers lately.
Male crappie backed off the banks and slowed the bite for a few days when the cold front rolled in but action has resumed in many shallow bays and pockets where fish are roaming the gravel and rocky points.
While most of the females were holding out away from the shallow venues, many dark male crappie were selecting spawning areas and awaiting the arrival of females.
Look for peak spawning to take place in the next week or so as surface temperatures climb into the 62 to 66 degree range.
A lot of fish are being caught in the 5 to 10 foot range throughout the Paris Landing area. Up Big Sandy and into West Sandy there are still a few suspended fish in the 8 to 12 foot zones where anglers are spider rigging and slow trolling jigs and having success.
Some areas such as Swamp Creek and the upper end of Big Sandy near New Hope and Country Junction crappie were being caught in very shallow depths such as two to four feet.
Patterns of success are varied as some anglers are still finding fish relating to the drop-offs in the middle of Big Sandy. Tightlining jigs and live minnows in the 12 to 14 foot depths has produced this week.
At the same time anglers vertical fishing jigs and live minnows around brushpiles and stakebeds are scoring some hefty catches too. Depths of 5 to 10 feet are producing best but look for shallow areas to improve this week.
Not to be forgotten are the anglers tossing light spinning gear with small grubs and live minnows beneath slip bobbers. The shallow banks and submerged stumps are giving up a lot of male crappie whose dark appearance indicates spawning is here.
Popular colors of jigs have been purple, red, lime, and black with a touch of chartreuse. Most anglers are fishing painted leadheads on 1/16 and 1/8 ounce jigs.
A few reports have come in from anglers casting and slow trolling small spinners such as Road Runners and Beetle Spins.
Meanwhile, lake levels are rising slowly as TVA began reservoir filling last weekend on Kentucky Lake.
Observed elevation at Kentucky Dam is predicted to be 355.6 this weekend. At New Johnsonville the elevation is expected to be 355.4. The lake is rising slowly and will continue throughout the month of April until the summer pool mark of 359 is reached on or around May 1.
Although high winds have played havoc with crappie anglers since late last week, the overall fishing has been good this year and well ahead of last year. There were a lot of crappie taken in March this year as the month produced some good weather. Last year, March weather was lousy and fishing was off.
With the peak of spawning likely to take place this next week, now is the time to wet a line.
From the bass department comes improving conditions as some decent stringers continue to come from anglers throwing crankbaits along big chunk rock points and sloping gravel banks near the mouth of bays.
The bass are in a prespawn pattern with many moving up shallow and staging around the mouth of pockets and large bays where points near the main lake provide a nice parking place.
Shad and crawfish colored crankbaits are working well, along with some jerk baits such as the Smithwick suspending Rogue. Also fooling fish are jig and pig combos and tube-skirted jigs worked slow.
Some spinnerbaits are worth tossing around logs and exposed stakebeds in the backs of shallow bays.
Although not much topwater action was on the menu this past week, watch for that to change quickly as warmer water stimulates the bass into an aggressive mood.
For The Lake Barkley Report
Click Here
For Other Kentucky Lake Fishing Reports
Click Here
Steve McCadams
is a professional hunting and fishing guide here in the Paris Landing area and host of The Outdoor Channel's television series IN-PURSUIT.